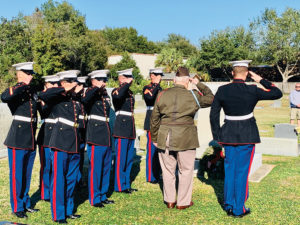 December 14th was a great day to be in Destin. The city Christmas parade in the morning delighted young and old alike. The afternoon honored those who paid the price for our freedom to celebrate. The American Legion family at Post 296, joined the community in a Wreaths Across America ceremony. Legionnaire and City Councilman Skip Overdier was Master of Ceremonies. Destin elementary music teacher Amanda McCardle sang our National Anthem. Sons of the American Legion member Sandy Lichauer led the pledge.
Legionnaire Chaplain Wayne Frost gave the invocation. The Niceville High School Jr. ROTC performed the duties of the color guard beautifully. Jim Dodd played Taps. Emerald Coast Pipes & Drums performed. Photos were provided by Angie Crisp Murray and Jan Anderson.
Ceremonial wreaths were placed on veterans' graves from each branch of the service. Army Sgt. Joshua Gillette placed the wreath for SSgt. Benjamin E. Malone. He served in World War ll. Air Force Master Sgt. Zach Miller placed the wreath for SSgt Thelbert Young. He served in Korea. Marine Sgt. Luis Uraga placed the wreath for Merchant Marine Julius Scheidl, Sr. who served in World War ll. Seaman Wayne Ballard and Fireman Mia Alvarez place the wreath for Coast Guardsman Phillip Bracewell. Marine Corporal Eduardo Duranespino laid the wreath for E.W. Webb U.S. Navy World War ll. Marine Sgt. Rebecca Martin placed the wreath for Captain Thomas E. Robertson, Korea.
Lt. Col. Sam Lombardo, 100-year-old Battle of the Bulge survivor, laid the wreath for the 93,329 POW-MIAs. Marine Sgt. Joshua Allaart escorted Col. Lombardo during the event. Additionally, Marines Nathan Bowman, John Cavin, Joh Connor, Titus Glaze, James Hunter, Cory Mason, Derek Mead, Eliazar Perez, Justin Perez, Aaron Pryor, & Luis Vargas were in attendance. They stood as sentries for the ceremonial grave sites. They also formed an honor guard for Sam Lombardo. They made the day so much more special.
Each December across the nation more than 1200 cemeteries fill with volunteers. No matter the weather, they come. All ages, from all walks of life come to honor the lives of the veterans who served. Parents bring their children so they can learn about service and sacrifice. More than 200 wreaths were laid at the Destin and the Marler Memorial cemeteries. These wreaths were sponsored by members of the community. For $15, individuals donated to ensure every veteran was honored. To sponsor a wreath for the 2020 service, checks made payable to Wreaths Across America, can be mailed to the American Legion Auxiliary at 311 Main Street, Destin, FL 32541. Online sponsorships are also available at WreathsAcrossAmerica.org. Be sure to note location FLDEMC & group ID FL0665P.