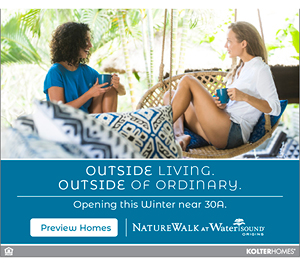 By Lisa Leath Turpin
Very few people think beyond certain titles and competitions. We hear the winner's name called and see the instant excitement and then our minds move on to something else. But for Miss Okaloosa County, the work begins with the crown. She is expected to represent Okaloosa County in all sorts of events and social gatherings locally as well as surrounding states and communities. Here we shed some light on what it's like to carry certain titles that help promote and educate others about our community and beautiful area.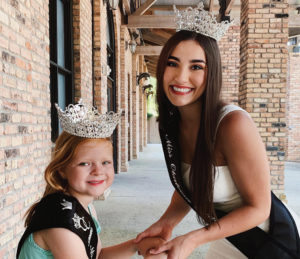 In April, Miss Okaloosa County 2018, Skylar Babin, passed the crown to Destin local Sydney Ilana Cope, Miss Okaloosa County 2019, at the Okaloosa County Convention Center. Since winning, Sydney is already blazing a trail, making appearances at some quite interesting events such as the ribbon cutting for the restored and relocated historical Gulfview Hotel in downtown Fort Walton Beach, the 2019 Relay for Life for the American Cancer Society, and the Lionfish Removal & Awareness Festival.
Although Sydney Ilana Cope is beautiful, the judging is based more on poise, area knowledge, confidence and sincere kindness. Who will fully represent our community, educate themselves on the needs of our area, and help encourage and lead younger generations? Participants are individually interviewed, then must display their poise and confidence with an onstage evening gown division, where they can show composure through an impromptu on-stage question they must spontaneously answer.
In addition to Miss Okaloosa County, there are five other age divisions, a total of six, within the Okaloosa County Pageant. The other five winners are Baby Miss Aurora Albertini, Toddler Miss Karlee Copely, Tiny Miss Emerson Fournier, Little Miss Vivian Lucy, and Teen Miss Riley Cleveland.
Sydney describes her contrasting experience, "I can go from flag football cleats or leading cheer stunts and go to six-inch-high heels in just a few minutes!" Sydney laughs, "I am one of those people who set their mind to achieving goals and go after them."
Even when one of those goals was spur of the moment. This was on the heels of Sydney being awarded Fort Walton Beach High School Prom Queen 2019! She is also the quarterback for the Varsity FWBHS Flag Football Team where she was awarded Most Valuable Player, and a four-year Varsity Cheerleader.
I met last year's Miss Okaloosa County and she encouraged me to enter. I thought, 'Wow, what a phenomenal opportunity to make a positive impact on my community and help others." So, she decided to enter the competition.
She and her mom, Sherry Jones Cope, went into action and found a stunning deep royal blue gown, a classy and professional interview dress, and submitted the application.
On pageant day, she interviewed with a panel of judges, walked with poise, style and grace in the evening gown competition and went on to answer the random on-stage question with confidence.
"When they called my name as Miss Okaloosa County 2019," Sydney remembers, "I had a million thoughts all at once – overwhelmed with excitement, thrilled with a new adventure, and eager to represent the people of Okaloosa County at the National Peanut Festival Pageant. As they pinned on my crown, it sunk in and I thought, I truly do want to make a profound difference in my community. So, yes, I was completely overwhelmed in the best kind of way!"
The pageant is a licensed preliminary to send a Little Miss and a Miss Okaloosa County to the two-day competition at the 76th Annual Miss National Peanut Festival in Dothan, Ala. in October. The National Peanut Festival promotes the agrarian peanut crop in Georgia, Florida and Alabama. Okaloosa County is the second largest peanut producing county in the state of Florida.
The impressive and shocking part that most people don't realize is the 14+ REQUIRED trips scheduled back and forth to Dothan from now until October in preparation of the National Peanut Festival. The surrounding area spends a full year planning. It's a huge deal to be a part of this event and awareness of all the positive impact of the peanut industry agriculturally and economically for Ga., Ala., & Fla. But in addition to the Peanut Festival, Sydney will appear at several events throughout our community and beyond representing you, the residents of Okaloosa County!
Another representative for our area is Miss Destin 2019 Brooke O'Keefe! "Rather than a typical beauty pageant, I used this event as an opportunity to display my characteristics and accomplishments that qualify me to be Miss Destin. My goal going into this experience was to be an ambassador for my city and a representative at the Destin Fishing Rodeo, an important tradition linked to Destin's heritage. There are many other opportunities that it affords me in the community. In just one month of being Miss Destin, I have been able to attend a graduation and speak to upcoming 5th graders. I am continuing to enjoy the doors this title opens and I am excited for the year ahead."
These competitions take a lot of time, money and energy. It's not just a simple, single-day competition—it's a full year's worth of devotion, love and awareness for our beautiful Destin community and vast Okaloosa County!