27th Annual Emerald Coast Poker Run Is Here!

On Saturday, August 10, The Emerald Coast Foundation will be holding the original EMERALD COAST POKER RUN, one of the largest and most popular charity Poker runs in the U.S. which rounds out the end of "Boat Week." Boat Week kicks off on August 7th, Wednesday through Saturday. Proceeds from Emerald Coast Boat Week and Poker Run benefit Children's Charities of the Emerald Coast Foundation. As of Boat Week last year, the Emerald Coast Foundation has raised more than $2.5 million dollars for our local kids in need. For a schedule of Boat Week Events, Aug. 7 – 10, visit emeraldcoastpokerrun.com/events.
15th Annual CVHN Big Give on September 27th
Join Children's Volunteer Health Network for the 15th Annual CVHN Big Give on September 27th at Bud & Alley's in Seaside! Tickets on sale now cvhnkids.org/the-big-give. CVHN provides dental and vision care to underserved children throughout Walton and Okaloosa Counties. Visit www.cvhnkids.org for more information."
Grillin' at Eggs on the Beach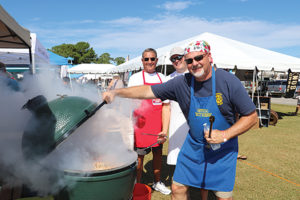 Bay Breeze Patio will host the sixth annual "Eggs on the Beach" Big Green Egg Grilling Competition, Sept. 28 at Seascape Resort in Miramar Beach. Registration is currently open for non-profit, backyard and corporate cook teams. The grand prize for the main event is a large Big Green Egg (valued at $1,110). Proceeds from Eggs on the Beach benefit The Fisher House of the Emerald Coast and Food for Thought. In the past five years, Eggs on the Beach has raised more than $100,000 for local charities. To register a non-profit team, email susan@baybreezepatio.com. To register a cook team, sign up as a sponsor, or purchase a taster ticket, visit www.EggsontheBeach.com or visit Bay Breeze Patio at 32 Forest Shore Drive, Miramar Beach. For questions, call, Bay Breeze Patio at 850-269-4666.
Save the Date for Animoré Benefitting Alaqua Animal Refuge
October 18-19, 2019
Future Home of Alaqua Animal Refuge, Freeport, Florida
100 Point and Cult Wine Dinner
• Friday, October 18 •
Be one of the first to dine in this unique setting at Alaqua's future home. Features cocktail reception, intimate musical performance, and exquisite private chef-prepared dinner with distinctive wines.
Inaugural Barn Jam
• Saturday, October 19 •
Join some of Nashville's top singer/songwriters for an outdoor festival of music and community! The event begins with acoustic performances in the round featuring Billy Dawson, Aaron Barker, and Jon Nite. Together, these award-winning performers have written some of the best top hits to come out of Music City that will be sure to have the crowd singing along. New Orleans' roots rocker Eric Lindell will also perform and bring his soulful sounds to Alaqua.
The Barn Jam will include a wide variety of food trucks, beverages, a silent auction, and a variety of seating options (from general admission to exclusive VIP Patrons).
Sponsorship opportunities available; Call 850-880-6694 or email lhood@alaqua.org.