By M. Shaye Smith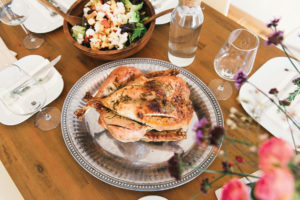 We've been celebrating Thanksgiving as an American holiday for 156 years. Established by Abraham Lincoln during one of America's darkest times in 1863, shortly after the devastating Gettysburg battle during the Civil War, in both good times and in bad, Thanksgiving has always been a gathering to celebrate our biggest blessing—that of beloved friends and family.
So, dine in, or grab it to-go, and enjoy some of Destin's finest food!
One of our local favs is AJ's on the Bayou on Okaloosa Island. They're giving back with a gift to the community—a Thanksgiving Feast and asking for donations only to dine! Brotula's Seafood House & Steamer is sure to please the seafood-lover's taste buds. Or give thanks with your family and friends as you cruise aboard The Solaris while enjoying a chef-prepared menu. Surf Hut provides stunning Gulf views while PJ's Pasta, Pizza, Ice Cream and Catering would be the perfect spot to order ahead and take a home-cooked meal.
Harbor Docks will host its 25th Annual Free Thanksgiving Day Feast, which also collects donations to support area non-profits. The Annual Community Thanksgiving Dinner at Harbor Docks Restaurant, in partnership with Habitat for Humanity in Okaloosa County and Destin Harvest, presents a FREE traditional Thanksgiving Day Feast from 11 a.m. to 7 p.m. for anyone in the community. Volunteers will serve the meal and donations to benefit the two participating charities will be accepted from those who wish to contribute at this 25th annual event.
Whether you choose to cook a traditional Thanksgiving meal, pick up a prepared dinner or eat out, the options are plenty for dine-in and/or carry out Thanksgiving feasts:
AJ's on the Bayou on Okaloosa Island: The community is invited to a Thanksgiving Feast from 11 a.m. to 4 p.m. on Thanksgiving Day. Located at the base of the Cinco Bayou Bridge in Fort Walton Beach, dine in a beautiful setting indoor or outdoor on the open-air deck overlooking the Cinco Bayou. (850) 226-7579. AJsonthebayou.com.
Brotula's: Brotula's will be offering a scrumptious Thanksgiving Day Buffet from 11 a.m. to 6 p.m. Adults: $36.95; Children (11 and under): $17.95; 3 and under free. For reservations, please call 850-460-8900. Brotulas.com.
Beach Walk Café at Henderson Park Inn: Beach Walk Café is offering a Thanksgiving Day Buffet from 11 a.m. to 3 p.m. Adults (16 and over) $48, and young adults (ages 13 -15) $25. Reservations are required and can be made by calling (850) 650-7100. BeachwalkCafe.com.
Cuvee Kitchen & Wine Bar: Enjoy classic southern- and family-favorites. Cuvee will have four limited seatings: 11 a.m., 1 p.m., 3 p.m., and 5 p.m. For reservations call (850) 460-2909. Cuveekitchen.com.
Thanksgiving Buffet at The Henderson: If cooking simply isn't your thing, from 11 a.m. to 3 p.m., The Henderson is hosting its Thanksgiving Buffet. Enjoy a delicious feast of all your favorite holiday dishes. Moreover, choose from turkey, pork sausage, crab legs, roasted grouper, and more. Hendersonbeachresort.com.
Honey Baked Ham: A great place to stock up on all food Thanksgiving! Ham, turkey and delicious sides or the full Thanksgiving feast. Available for pick up or delivery. 137 Crystal Beach Dr, Destin, FL 32541. (850) 650-2636. Honeybakedham.com.
Whole Foods Destin: For Thanksgiving dinner to go, you can choose from a wide selection of holiday meals. Meals range in size and price from $69.99 to $449.99 and serve up to 14 guests. They also carry organic meals, turkey dinners, ham dinners, prime rib, and even vegan meals. Order pre-cooked turkey and sides either in the store or online through their Destin E-store. (850) 269-7400. Wholefoodsmarket.com.
No matter what activities, events, or restaurants you choose for your Thanksgiving, we wish you a happy and blessed time filled with fun, food, family, friends and great memories!