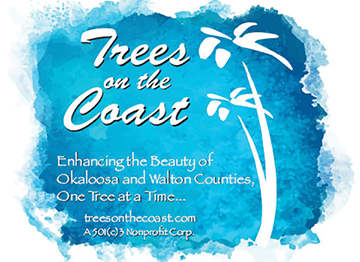 Join Trees on the Coast and the City of Destin for a dedication ceremony to be held on Oct. 20 on Airport Rd. to honor 11 servicemen who gave their lives for our country. All are invited to join the bagpipes, firetrucks and others in the ceremony as well as help to complete the beautification of a streetscape in need of landscaping. Two years ago, 11 servicemen tragically gave their lives in a helicopter accident that happened during takeoff from the Destin Airport. Trees on the Coast will be planting 49 Sand Live Oaks and approximately 1,400 African Irises in the median of Airport Rd. from Main St. to Hwy. 98, and 11 of the trees will honor the fallen servicemen.
Howard Group, Henderson Beach Resort, Destin Commons, Century 21 Blue Marlin, Pelican, The Local Market, La Paz Restaurants and Shane Cannon have all joined in to help make the project a reality. Trees on the Coast is looking for individuals, businesses and corporations to also join in to complete this beautification project.
You can help with a tax-deductible donation to: Trees on the Coast, 50 Lands End Dr., Destin, FL 32541 or visit treesonthecoast.com. For more information, email info@treesonthecoast.com.