By Ron Sandstead, Flutterby Antiques
Our Banner Art Project officially began a year ago when the City of Destin installed our first banners on Main Street. Since then, I have been blessed to meet and get to know an amazing variety of local artists. Because of their generosity, we are gradually transforming Destin into a City of Art. We currently have 24 banners on display. By this time next year, we hope to double that number. How exciting is that?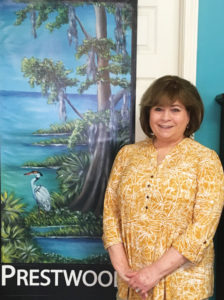 Like many artists, Debbie Prestwood was encouraged to draw and be creative when young. But, it wasn't until 4 th grade that she fell in love with art. Her teacher saw in her an eagerness to paint and let her play with watercolors.
Once Debbie realized she could create her own colors, she became fascinated with painting. She still loved her big box of 64 crayons but no longer needed them for colors. She could create her own.
For Debbie, art is color. She likes all the colors and shades but blues and greens are her favorite. For her, they are peaceful and calming and she loves using them when she paints. She was always a big fan of Bob Ross and loved watching him paint. While watching him paint one of his landscapes she would often hear him say "there are no mistakes — just happy little accidents."
Debbie works with a variety of mediums including mixed media and watercolor but her favorite is acrylics. While working at the Indian Temple Mound Museum in Ft. Walton, she was asked to paint several murals for the museums' full-sized dioramas. Of these, the largest was 8' by 16'.
For her banner, Debbie painted a bayou scene. It is a serene landscape of water, cypress trees, Spanish moss and a lone heron. In looking at this painting, there is a feeling of familiarity. It is quiet. It is peaceful. There is a sense of coming home.
Debbie considers herself a hobbyist although she does sell some of her paintings. They can be found at Emerald Coast Gallery and Gifts and at Surfside Spa in Miramar Beach. Her work can also be found on her Facebook site.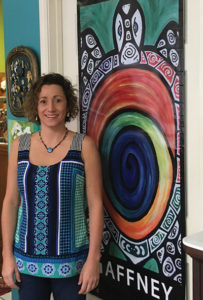 Educator and artist Julie Gaffney grew up in Southern Illinois, went to Florida State and graduated with a degree in psychology from Troy State. She got her teaching certification from West Florida and began her teaching career at Bruner Middle School in Ft. Walton. In 2013, she was hired by Destin Elementary as the art teacher for the 980 children enrolled in Kindergarten through 4 th grades. In the limited amount of time she has with each child, she encourages them to paint what they feel and not worry about "rules." She knows that when a child is creating they are developing the ability to have original thoughts.
Julie's hobby is scuba diving. She began diving as a child when she accompanied her parents on their family vacations to the Florida Keys. Julie dives using the snuba technique where she breathes through a tube connected to the dive boat. She enjoys shallow dives because of the beauty she sees and this inspires her artwork.
Julie prefers using acrylics when she paints. She says that painting is therapeutic for her and she works on two or three paintings at a time. Her paintings are all characterized by bright colors. Julie's banner art is a good example. Her stylized turtle is a rainbow of color. It pleases her when a good combination of colors works in one of her paintings — and it certainly works on her banner.
In September, she participated in the Grayt Vibes Arts & Music Fest in Grayton Beach and has begun participating in artist "Pop Ups." Her artwork can also be found on Facebook at "Jewels by Jules" and on Instagram.
Many wonder why our society has been able to lead the world in technical advances. I personally believe it is because we dream. From dreams we learn to imagine what can be.
Think submarines (Jules Verne), the light bulb (Edison), flying (Leonardo Da Vinci) and talking into a wrist radio (Dick Tracy). With imagination, all things are possible. Albert Einstein said, "Logic will take you from A to B. Imagination will take you everywhere."
The objective of our project has always been to beautify Destin, highlight our local artists and promote art in Destin. We are succeeding. We are gradually becoming a City of Art!