By Janie Schmidt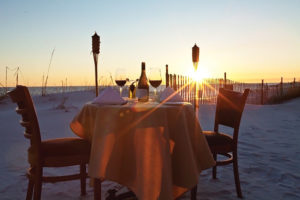 When first approaching Henderson Park Inn, guests often delight at the incredible smells escaping the kitchen, pouring out to the entrance to mix with the divine salt-filled air coming off the Gulf of Mexico. In addition to its many awards and accolades from national and local brands alike, Beach Walk Café in Destin FL has become a staple in Destin's fine dining culture.
Beach Walk Café's Executive Chef Daniel Peters recently added a number of new items to the menu, and guests are lining up to secure reservations to try his incredibly crafted dishes.
What should you order? Here are three dishes on Beach Walk Café's menu that you won't want to miss:
1. The Daily Fresh Catch
Located directly on the stunning beaches of Destin, Beach Walk Café offers a stunning selection of fresh seafood, but while the selection changes daily, Chef's Fresh Catch Feature is always sure to please any seafood lover. Chef Peters expertly crafts each feature to highlight all the best Gulf seafood has to offer.
2. Truffled Marsala Chicken
When Chef Peters first joined the Beach Walk Café family, the Truffled Marsala Chicken was the first dish he added to the award-winning menu. The perfectly cooked, pan seared airline chicken is covered in a delectable marsala mushroom sauce, served over an English pea risotto and topped with shaved truffles, and it's sure to make just about any mouth water.
3. Red Wine Braised Boneless Short Rib
As a Destin native, Beach Walk Café's Chef Peters holds a keen sense of the types of dishes the Destin area requires to elevate its culinary culture. The Red Wine Braised Boneless Short Rib is just that sort of dish. Added in the fall of 2019, the short rib is served over a bed of garlic mashed potatoes and sautéed spinach, topped with a truffle bordelaise sauce and crispy fried onions. Pair it with Silver Oak's 2015 Alexander Valley Cabernet Sauvignon for a truly incredible flavor experience.
Really, if you're dining at Beach Walk Café in Destin, you're sure to be impressed by any dish you order, so if you're looking to dine on the most delectable food in Destin Florida, call 850-650-7100 to make your reservation today.