Something exciting, and new, is making a splash on the Emerald Coast.
The ReefBoard provides families a unique view of the various sea life in our clear gulf waters. Comparable to snorkeling, only without the hassle of breathing through a tube, swimming fatigue or leaking masks, the ReefBoard is solidly constructed similar to a kayak but instead of sitting "in" it, you lay flat on top of it and place your head into a neoprene padded face rest which doubles as a sun-blocker and allows for the best view into the water below.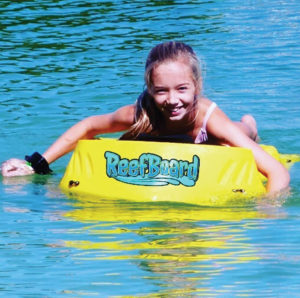 The board is light weight, only 15 pounds, which is easily carried to and from the beach by users of nearly any age or physical condition. They fit easily in any size vehicle or even golf-cart. Popular uses in the area have included shell-hunting, visiting the artificial reefs, crabbing, scalloping, turtle watching and exploring the panhandle's dune lakes and natural springs.
Currently ReefBoards are available for rent in 33 countries. The Florida Panhandle is added to the list through an exclusive agreement by the manufacturer to bring the ReefBoard experience to visitors and locals alike!
Equally as unique as the ReefBoard itself, is the business approach to how the rentals are being facilitated. Instead of opening rental shops throughout the area, which could be perceived as competition to the already established and popular rental businesses, ReefBoard is flipping the traditional business model on its head. ReefBoard is being offered for wholesale rental to local businesses and vacation home owners. Instead of investing in expensive overhead (rent, staff, drivers, etc) they are investing in the local business community.
The goal is to leverage the magnetic attention and popularity of the ReefBoard to promote and champion the success of existing businesses. The exchange is mutually beneficial (of course) but is designed to bring profits to the business owner without requiring a significant capital investment.
Ideal Partners:
Rental shops, vacation rental home owners, hotel/resorts, snorkel charters, and retail store owners.
Here is How it Works:
Business owners rent a supply of ReefBoards at a discounted wholesale rate.
The business than rents out the ReefBoard to their clients/customers and keep 100% of the revenue for themselves.
When the season is over, or the agreement expires, the ReefBoards are returned. That means zero maintenance or storage for the business owner.
Additionally, ReefBoard will be advertising their vendor partners and the availability to rent the ReefBoard throughout the panhandle at participating locations. Marketing materials, graphics, social media posts, videos and more will be provided to assist with the promotion of the rental availability.
ReefBoard is also aligned with THEO, and a portion of the profits are donated to the 501 (c) Friends of South WaltonSea Turtles. #CleanDarkFlat
If you are interested in learning more about offering ReefBoards inside your business, please email info@reefboardrentals.com, call 850-333-0020 or go to our website www.reefboardrentals.com.