By Bobby Parker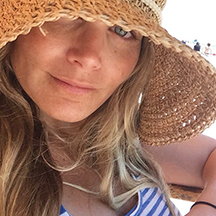 The Emerald Coast has become home to artists of all sorts over the years with its natural beauty and its bountiful sources of inspiration. However, every once and awhile we find a local artist nestled amongst the rolling sand dunes and ever-changing tourists, such as the 2018 Destin Seafood Festival Poster Artist, Rebecca Russell, who encapsulates the true essence of the "World's Luckiest Fishing Village" in her art, while also calling Destin home.
A Niceville native and University of West Florida graduate with a B.A. in Maritime Studies, Rebecca always gravitated towards art. While it's uncertain when she first started drawing, she recalls being first recognized for her talent in the fourth grade when she was selected to paint a life-size mural of a whale in the school hallway.
Little did she know at the time, that this would be her first marine life piece. However, it wasn't until early 2016 that Rebecca decided to venture down the path as an artist out of sheer necessity. At the time, she was working in the boating and fishing industry and found herself needing a way to make ends meet in the off season. That's when she took a chance on her art and created what she calls a "magazine mosaic" and put it up for sale. From that point, the rest is history.
That same year, Rebecca participated as a vendor for the Destin Seafood Festival. Her art was so well received at the festival that she knew she had to enter at least one poster contest. With 2018 being the 40th anniversary for the Destin Seafood Festival, this contest was even more special for Rebecca. After working for quite some time on a piece similar to her winning artwork, Rebecca threw in the towel the night before the deadline. However, she knew she couldn't just give up that easily after spending hours and hours on a piece. So that night, she got out of bed and went back to work creating a piece that captured all the different types of boats found in the Destin harbor while pulling her inspiration for each one from her own personal connections. The result was the winning piece, "The Morning Run," that illustrates the Destin Fishing Fleet heading into the Gulf each morning.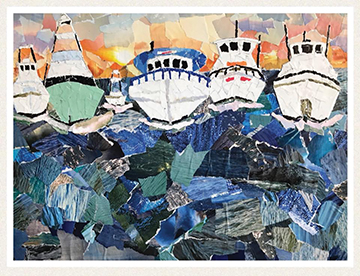 Rebecca's pieces undoubtedly emulate her love for the water. "It's my main source of inspiration as far as my subject matter," she says, "It may be cheesy, but hearing waves or the clinking and clanking of the rigging against a sailboat mast in the wind ignites my creativity." It's this inspiration and sense of home along the Destin Harbor that led Rebecca to bring to fruition her dream of opening her own little shop, the Soulfish Art Gallery, at the Destin Fishing Fleet Marina located behind Brotula's. The "Mermaid House" or the "Lil' Blue Hut," as many people call it, was built by Rebecca and her father over the last six months and is place where she can create and experiment with different styles and mediums. "My goal is to become a place that people want to come back to every summer to check out what is new," she says. "I've added special touches here and there that I hope will make it more than just a shop, but a place where people come and leave an impression and that I'm able to do the same with them."
While she doesn't create art full-time, as she's also the Associate Director for the Destin History and Fishing Museum, the artist hat is always on for Rebecca. So what's next for this local artist? "I have no desire to be rich and famous. I want to wake up, do something I love, and hangout with good people and good dogs," she says. "I've been busting my butt for years, floundering a bit, trying to figure out the path I need to take. Once I did, I've been working even harder to make it happen. Now that all that hard work is paying off, it's time to find balance. I'm ready for a cold drink and a live band – keep it simple."
You can follow Soulfish Art on Facebook and Instagram or stop by the Soulfish Art Gallery, open Sunday, Monday, and some Saturdays to see more of Rebecca's work.