Lindy Wood dreamed of a day when she could offer more for her son, Weston, and other teens and young adults affected by Autism. "I see my little Weston now and already worry about the fact that, as he gets older, his opportunities to develop and cultivate independent skills rapidly decline. A parent should not have to worry about outliving their child. So, I found myself questioning what can we do as a society to better equip youth with special needs," said Lindy, Weston's mom and founder of Westonwood Ranch. And so, the heartbeat of Westonwood Ranch was born.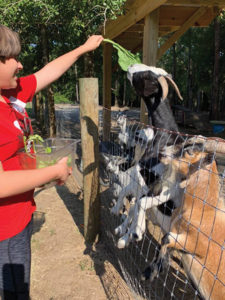 Westonwood Ranch, a local nonprofit dedicated to providing life and vocational skills for adolescents and young adults with varying developmental disorders, recently opened its new farm-based campus in Freeport. "One in six children are diagnosed with some form of developmental disability and the harsh reality is that these children do not outgrow these disorders," said Lindy. Westonwood Ranch's newly hired executive director, Kelly Thompson, is ready to address this challenge. "We hope that we can be a vital resource to the teens and young adults affected by autism in Walton County and the surrounding communities," said Kelly. Specifically, Westonwood Ranch offers a holistic learning program on its campus that focuses on providing functional learning opportunities to prepare young individuals and adults with developmental differences to transition into independent living and work exploration.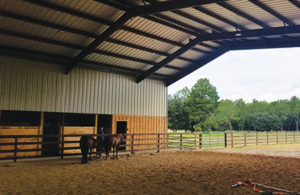 Lindy and her family moved to Walton County after years of living in rural Alabama. Her son, Weston, age 9, was diagnosed with autism when he was age 2, and therapy options there were limited. The Wood Family made the decision to move to the panhandle in order to gain more therapy options for Weston. They moved to Freeport, and bought a 40-acre tract of land, trying to recreate the farm they had in Alabama. Lindy learned that there is a shortage of programs geared towards older youth and young adults not only locally, but nationwide. She knew her new land could be used for more than just a family farm.
Westonwood Ranch now welcomes full-time students ages 12 through adult in the comprehensive program and is a State of Florida certified McKay and Gardiner Scholarship provider. Students learn independent living skills with an emphasis on work exploration. Students have the opportunity to learn through hands-on ranch operations including aquaponic farming, animal feeding and care, as well as kitchen operations, creative art exploration and fitness classes. Included in the holistic curriculum, the students receive equine assisted therapy. In addition to the full-time educational program, Westonwood Ranch offers multiple after school programming for younger children with special needs including art therapy, equine assisted therapy, as well as a summer day camp utilizing farm based learning and equine activities.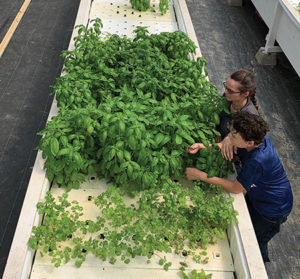 Lindy wanted the farm to be self-sustaining with a revenue stream to help support the non-profit. It is a working farm with several micro business enterprises that not only serves as hands-on job skill training and employment opportunities, but contribute back into the program. At the center of the micro businesses is a commercial aquaponics greenhouse that raises channel catfish and produce in a closed loop ecosystem.
Lindy hopes Westonwood Ranch will fill in the gaps where traditional vocational rehabilitation programs fall short. Those with autism and other related developmental disorders have unique social, communication and behavioral challenges that people with other disabilities have. "There's not enough focus on looking at the individual and figuring out what their unique talents and skills are and retrofitting that into a job that's comparable to their skill set," stated Lindy. "The support that we've received has been tremendous, including support from area businesses and nonprofit organizations," Lindy said. "I've been in awe of the numerous individuals who have been touched by autism in some way, who felt led to give their time, talents and financial gifts to make this vision a reality," said Lindy. "I am so grateful to be a part of such a generous community."
To learn more, please visit the Facebook page or website at www.westonwood.org.