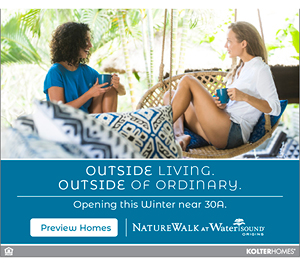 By Cali Hlavac, To Do In Destin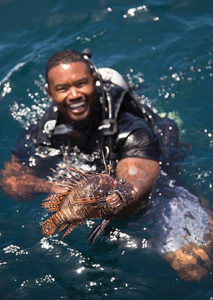 Many people have never heard of a Lionfish, nor do they know why this species is so disliked, and what an impact these tiny little creatures make to the Gulf and its ecosystem. Their colorful design is noticed by predators and helps them get their name. The body is very flat, orange and white, like zebra stripes. They have pectoral fins that are very long and can grow to a size of about one foot. Most will not weigh more than 2.6 pounds.
Lionfish were first reported off Florida's Atlantic Coast near Dania Beach in 1985, but are not native to the area. They are known as predatory reef fish, causing damage to coral reefs, sea grasses and mangroves. Their high rate of reproduction and growth, voracious feeding capacity and lack of predators makes them a threat to current ocean life. They reach sexual maturity in less than a year and spawn year-round in warmer waters. Females can spawn as often as every three to four days, which is far faster than anyone can hunt them.
Lionfish also feed on native fish, which can reduce native populations and have negative effects on the overall reef habitat and health, as they can eliminate species that serve important ecological roles such as fish that keep algae in check on the reefs. Lionfish also compete for food with native predatory fish such as Grouper and Snapper. For a community that survives on fishing, this can cause a huge problem.
While Lionfish are hunted by humans, often by spearfishing, they are tricky to handle. They carry a deadly poison in their spines. Lionfish are not poisonous, they are venomous. The difference between poison and venom is the method of delivery. Venom must be injected into the bloodstream to cause injury, such as through a sharp spine or fang, but is harmless if eaten.
Because lionfish are venomous, not poisonous, there is no harm in eating the lionfish meat. Once you dispose of the spines, there is no risk of envenomation, and you're free to prepare your lionfish as you choose. Fortunately for the eco-friendly fish lovers out there, lionfish are delicious. There are no lionfish regulations in Florida waters, and a fishing license is not needed to harvest them.
Recently the community has brought Lionfish awareness to the forefront and created the Lionfish Removal and Awareness Festival on May 16-17 at AJ's Seafood and Oyster Bar in Harborwalk Village. The event is free and open to the public, with family friendly activities, diving and marine conservation information, live music, Lionfish tastings and coincides with the world's largest Lionfish spearfishing tournament, the Emerald Coast Open. Find more information about this event at www.EmeraldCoastOpen.com.