By Ron Sandstead, Flutterby Antiques
Growing up in a midsized Illinois farm town, I didn't see a lot of art. Maybe it was around – but I never noticed it. Kids are like that. As I remember it, we never had any kind of art in school after third grade — and private art lessons didn't exist. What a shame. Art appreciation was not even a thought. Thank God, I was exposed to art as I matured and now understand its importance and value in our lives. This is one of the reasons I believe in our Banner Art Project. We are getting art out where it can be seen and appreciated.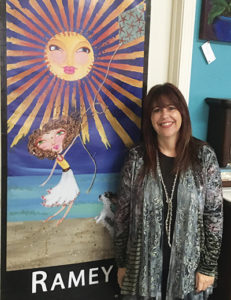 Artist Christine Ramey grew up in Terre Haute, Ind. and graduated with an arts degree from Indiana State University. Christine has traveled and lived a variety of places in the U.S. and met her musician husband (Frank Faust) while living in New Orleans. They moved to the panhandle 18 years ago and currently live in Panama City Beach. During the early 2000s, she taught art and her husband taught music to home schooled kids through the Okaloosa County Blended School System. Although successful, this program has been discontinued.
Christine uses acrylics, water colors and colored pencils to create what she calls her Modern Pop style. Most of her whimsical artwork is created using "found pieces" from antique jewelry to sea shells. "My subjects are usually girls on bicycles, mermaids and the architecture of 30A." For her banner, Christine painted a big-eyed girl being lifted from the beach while flying a kite. The sun is smiling down while the girls' dog appears to be trying to stop her from flying away. To create her mixed media painting, she used crystal jewels around the face of the sun, red beads on the skirt of the girl and a scattering of mica flakes for texture on the beach. Her painting was then covered with Triple Thick to give it a smooth glossy surface.
Christine owns and operates a boutique/gallery in Santa Rosa Beach named "Art and Soul 30A." Christine can be contacted for commission work through her email ChristineRameyArt@yahoo.com. Summer evenings Christine can be found face painting children at HarborWalk Village in Destin — one of her greatest joys. She especially enjoys the look on their faces when she is finished and they see themselves in a mirror.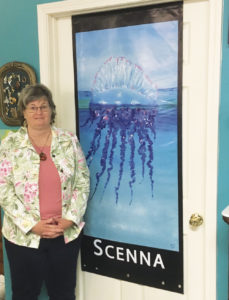 Artist Kelly Scenna grew up in the country outside a small town in upper New York State. As a child, she liked sketching the wildlife she saw around her home. Kelly's art teachers and parents recognized her talent and encouraged her to draw and paint. Her subjects continue to be wildlife and birds, with the blue heron being her favorite. While married to her first husband, she traveled and was inspired by some of the world's greatest art. Even so, her favorite artist is still Bob Ross and his "happy little clouds." Today she lives in Navarre with her husband, Salvatore.
Besides creating her own art, Kelly loves to teach others how to paint – both young and old. She teaches children in her home and the adults at a friend's. Kelly says "there is an artist in everyone." She believes that with instruction and practice anyone can become an artist. They need to learn some basic techniques – and then practice, practice, practice.
For her banner, Kelly chose to paint a very realistic Portuguese Man-of-War. I love the colors of this unusual animal but have always been nervous when I see one. I have learned some interesting facts: They are not jelly fish — they are actually a colony of four individual organisms called polyps — they are painful but ordinarily not fatal to humans. I feel like an old dog learning new tricks!
Kelly displays her art in two Navarre shops — Pik-itz! and Sand Dollar Cottage. For commissions she can be reached by email at kscenna@hotmail.com.
Most of us who love art realize it has value. We may not be able to explain what art is — or how it makes us feel. We just know we like it. This desire for expression isn't something new. Man has been creating art for thousands of years. There are hundreds of caves throughout the world where prehistoric man painted on the walls. Indians used rocks to hammer petroglyphs on rock surfaces. Assyrians and Egyptians carved statues and reliefs in stone thousands of years ago. And the list goes on. Why this obsession for art?
Obviously, it means something! It has value…it connects us to our humanity.