By Lori Leath Smith, Publisher
"A spirit of thankfulness attracts others to your cause, ideas and goals."
– Skip Prichard
I believe a spirit of thankfulness is an active choice. To be thankful rather than complain takes a conscious act of the will. Our response to situations and circumstances, positive and negative, make all the difference in the outcome. In positive psychology research, gratitude is strongly and consistently associated with greater happiness. Gratitude helps people feel more positive emotions, relish good experiences, improve their health, deal with adversity, enhance empathy and reduce aggression, improve self-esteem and build stronger relationships. According to Forbes, "Cultivating gratitude doesn't cost any money and it certainly doesn't take much time, but the benefits are enormous!"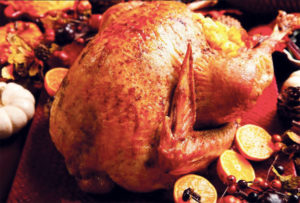 So, Destin Life asked, "What are you thankful for?" And, wow, according to the overwhelming response, we have a city full of thankful hearts:
I am thankful as can be for so many things; but businesswise, I'm am thankful for honest and smart employees and business partners, quality customers with loyalty, and the ability to help people achieve their goals. I thank God for putting these people in my care and giving me the ability, drive, integrity, and energy to make dreams come true. –Mary Anne Windes, Real Estate Professionals of Destin
I am thankful for so much but 1st my lord and savior, A job that I love and my family and friends. –Krisy Anderson, Beverly Hills Day Spa
I am thankful to live in a country where we can serve God openly and freely and for my husband, family and friends that support me every day. Blessings Galore! –Nellie M. Schlachter, Vice President, Retail Market Manager, Synovus Bank
I am grateful to live and work in such an incredibly beautiful community where people are open to connecting and do life together! –Kimberly Balzli, Business Development Manager, Best Beach Getaways
We are thankful for a family centered community and the relationships we've formed. We are thankful that 98 is closer to being done and traffic will get better soon. We are thankful for beach therapy and its ability to wipe away stress. We are thankful that no hurricanes hit our area this year. –Melissa Jones, Marketing Director at Norton Insurance
I'm thankful for our brave people that serve in the armed forces and the sacrifices they make on a daily basis so that we as Americans can have freedom, and can live and worship unlike any other place in the world. –John Stevenson, Edward Jones
This year, I am thankful that my wonderful son and daughter-in-law will be visiting "Gramma Kay" from Atlanta with their five children – all under the age of 11, including twin 4-year old girls. I won't be cooking, but will take them out for a delicious Thanksgiving dinner at one of our area restaurants. –Kay Phelan, Phelan & Lowry, Ltd.
My favorite time of the year, So much to be thankful for! First, Our beautiful area, year round paradise, that has so much to offer, peace and tranquility, truly a blessing. Next health, you never know how much you miss it until you are not feeling well. Even a slight allergy can affect your happiness. Finally, friends and family, and not in that order. There's nothing like a hug and kiss from my sons Zakary and Zander—Game changer. –Zoran Subotich
That I live in the United States of America, by far my greatest blessing. –Gary Redden
Having grown up with great hardships; I am extremely thankful for my profession – serving those in need in our community. I get to do something that I love while helping those in need every day! And by giving to others one receives back an unexpected gift of appreciation, love and friendship. Give and you shall receive. – Susan Page
I am grateful for so much on a daily basis, particularly family and friends… and as a golfer client once told me, "Waking up on the right side of the green!" –Gail Pelto, Keller Williams
I am truly grateful for loyal clients who brave the Highway 98 construction traffic to intentionally #ShopLocal with us at Frill Seekers Gifts! We are blessed with THE best clients. –Heidi LoCicero, founder, Frill Seekers Gifts.com
I'm thankful for the opportunity to live in paradise! I'm also grateful for the referrals my real estate clients give to me year after year. –Brian K. LoCicero, founder, Be On The Coast Real Estate.com
There's so much to be thankful for in our area…the beaches, the bay, fishing in the Gulf, woods to hunt in and trails to hike. And of course, I'm grateful to my real estate clients who put their trust in me. –Andrew E. LoCicero, co-founder Be On The Coast Real Estate.com
I'm thankful for being a part of such a family oriented, loving and supporting community of Destin. –Andy Poveda, Director of Sales & Community Management, Beachworx
I am thankful for all of the ways God has blessed my family, friends, and my life. –Michelle Rathmann, Teacher
What I'm grateful for: Wow – loaded statement – so, so very much. My life, my wife, my kids. The ability to live through pain and see the joy that comes along with it. To quote a song, "How can you appreciate the sunshine without the rain." –Matthew Vanderford, Insurance Claims 911
I am thankful for my home at the beach and for all of the wonderful friends I have met since moving here. I am also thankful that God has blessed me with good health and happiness. –Debra Henry, CPA
I am thankful for the opportunity to live and work in such a beautiful place, and for the chance to meet so many great people. I love our little community! –Cali Hvalac, To Do In Destin
I am thankful for my wonderful wife Cayce, kids and my entire family; my band and my AJ's work family and this amazing Destin Community. –Dan Collins
All that's right in the world. Family and friends. –Denise Song, Habitat for Humanity
I am extremely thankful for my family (hubby and kids), for my amazing clients including Jeanne Dailey and the team at Newman-Dailey Resort Properties and the time I get to spend in scenic spots throughout South Walton and Destin. Immensely grateful! –Tracy Louthain, APR, CPRC, Director of Marketing & Communications, Newman-Dailey
I am thankful for my husband, kids and grandkids! I also am thankful for extended family that I may only get to see one or twice a year! –Valerie Peterson LMHC, Destin Counseling Center
I am grateful for my wonderful wife Redd, who works tirelessly as the singing bartender, as well as being a skilled interviewer on 30ATV – keeping it fun instead of work – amazing 20 years together this Thanksgiving. –Paul Vizard, 30A Media – Video Production | Broadcast | Distribution | Live
I'm thankful for the community I live in. The people here are always quick to reach out and support each other. –Zhalman Harris
I am most thankful for my family… especially our little granddaughter Eden! I am thankful for close friends and family and a safe and caring community to live in! –Myra Williams, Howard Group
Myrna and I are thankful for faith, family, friends and salvation! An attitude of gratitude determines our behavior and results in our living a life of thankfulness each day of our lives! –Bob Conrad
I am thankful for my family and to be living in such a beautiful area surrounded by so many incredible people. –Greg Durette, Florida Health Connector
I am thankful for the revelation that I have of God's unconditional love that has empowered me to love, encourage, support and give to others. I'm thankful that that one revelation has kept my family, relationships and personal well-being in a place of peace and joy no matter what storms may come (and they do come). I'm thankful that my ship remains steady. –Dee Chernicky, Dee Chernicky Ministries
I am thankful for the dozens of times a day I get to look up and see paradise. –Leslie Moland, APR, Dir. of Marketing & Public Relations, White-Wilson Medical Center, P.A.
I feel like God told me "thanks" opens the door to more, like saying more LORD! So, I am thankful for the ability to thank God, whom all blessings flow from! –Mona Ponder, Business Empowered and Silver Real Estate
My family – they are my foundation, my best and closest friends and confidants. I am extremely fortunate and I pray I never take that for granted! –Stephanie Pettis, APR, Vice President of Planning and Strategy, 25th Hour Communications
I am thankful for the Nonprofit Trees on the Coast and the new trees being donated and planted throughout Destin. –Allen French, Trees on the Coast
I'm thankful for the moonlight on the Gulf, it fills my heart with love and hope for tomorrow. –Frank Berte, Destin Interactive
I am thankful for local news in SoWal Life, Bay Life and Destin Life newspapers. –Ray Cyr, Advertising Director, SoWal Life
Thankful for my family and friends and to be able to be a daily light for all who need it! Also so very thankful to be able to spend our winter in beautiful Destin! –Deb Haemker Skog
And I am thankful for our partners and readers. It's your voices and your support that make this publication great! –Lori Leath Smith, Publisher, Destin Life | Bay Life