By H. L. "Scooter" Ward, Jr.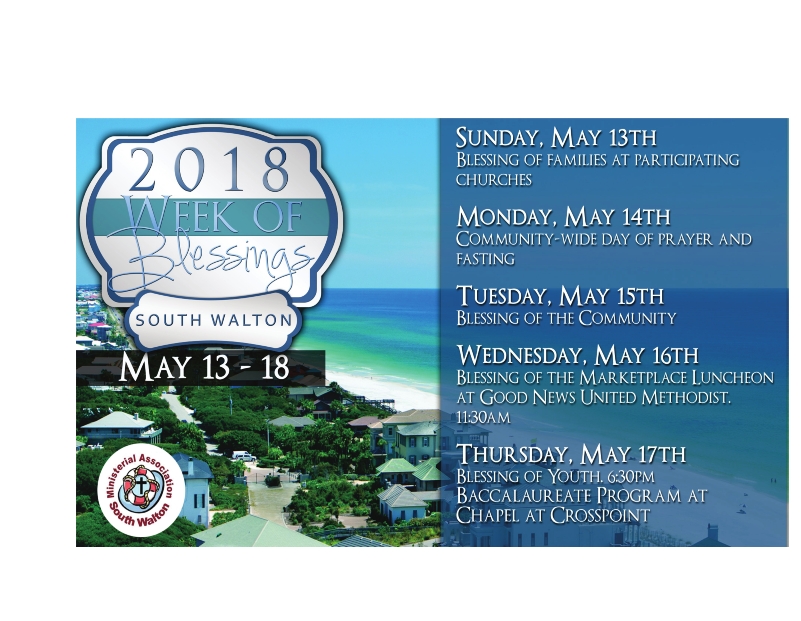 The South Walton Ministry Association is a formation of pastors and church leaders from 12 of the area's local churches all with the collective purpose—to unite and make an impact on the community of South Walton and the town of Santa Rosa Beach. Our upcoming community-wide event, "Week of Blessings," is an opportunity for all of the churches to unite under one banner, Christ, and to bless our community with and through Him. The early church sought to make the presence of the Lord known in the community; that is exactly what we endeavor to do with this week-long event.
Each day during the week of May 13 through 17, we will carry blessings to a different group:
Sunday to families as we celebrate Mother's Day in our churches.
Monday to the community in its entirety through prayer and fasting.
Tuesday to participating pastors. We will visit several locations to pray over our community leaders and those who serve our community, especially our first responders.
Wednesday to the area business leaders, county government and community leaders by hosting a luncheon to encourage them and gather around in prayer for and over them.
Thursday to our students through a baccalaureate service in which our area pastors will send our graduates off with the Lord's blessing.
We welcome you to join us for any or all the events. Please refer to the week of blessings advertisement below for times, dates and locations. For more information, call H.L. "Scooter" Ward, Associate Pastor, Community Church of Santa Rosa Beach, at 850-267-2599 for more information.