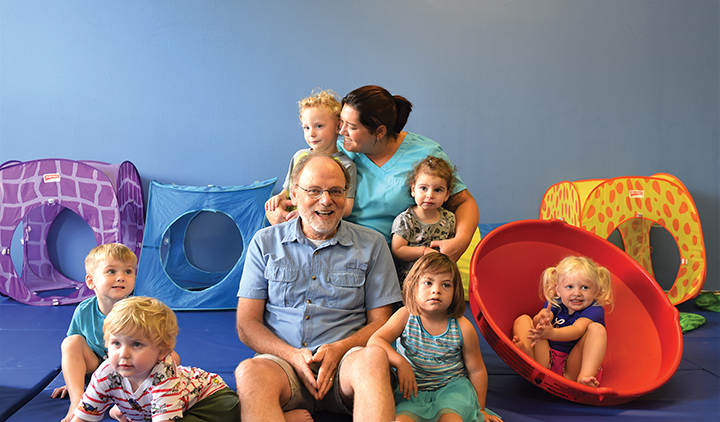 In 2013, Calley Middlebrook's youngest child was diagnosed with Autism at age three. His diagnosis inspired her to learn more about sensory integration and education, and so began her journey to opening South Walton Academy.
Calley is Founder and Executive Director of South Walton Academy (SWA), a non-profit inclusion school in Santa Rosa Beach and the first of its kind in Walton County. Now in its 2nd year, the school serves ALL children ages three through sixth grade, with accommodations in place for children with Autism Spectrum Disorder and related disabilities.
"As a mother of a child with Autism and as a therapist, I struggled to find the services our children needed," says Calley. "I knew I was able to change that not only for my child, but for our community as well."
For more than 12 years, Calley worked with children experiencing developmental delays as a therapist with Early Steps, the State of Florida's early childhood intervention program. She has always had a passion for helping children with communication, which lead her to taking on clients with Autism.
South Walton Academy provides a learning environment that helps every child achieve success while maximizing their individual potential. The school's 5:1 student-teacher ratio provides the cornerstone from which all children grow.
Certified teachers work to help each child advance at their own pace while providing individualized curriculum for all learning styles and abilities. Accommodations are in place for children with Autism and related disabilities, including but not limited to ADHD, Asperger's, and communication delays.
"Our neurotypical and advanced developing students get just as much out of school as our children with special needs," says Calley. "They are able to learn while helping teach their peers and in turn are able to retain more information while learning skills that will have a life-long impact."
In addition to the school program, SWA offers a Summer Program with daily, weekly, and monthly rates, Play Groups for children ages 0-5, Therapy Services, and they also accept and partner with Homeschool Programs. South Walton Academy accepts the Gardiner Scholarship, McKay Scholarship, Florida Tax Credit Scholarship, and will soon be accepting Voluntary Prekindergarten Education Program (VPK) vouchers.
"We started with very little funds but with a lot of heart and dedication from our founder and supporters we are growing," says SWA Director Jennifer Filippone. "Generous donations and a GoFundMe campaign helped us open the doors January 2017. We started with just five students and have grown to now serving over 20 students and additional therapy clients."
South Walton Academy is a private, 501c3 nonprofit inclusion school centrally located at 585 Mack Bayou Road in Santa Rosa Beach, FL. If you are interested in enrolling your child or learning more about South Walton Academy, please visit www.southwaltonacademy.com, call 850-213-4595 or email southwaltonacademy@gmail.com. You can also help by attending the Academy's fundraising events. Coming up is the "Rockin' on the Lawn" Music Festival which will be held on Oct 13th at Mattie Kelly Culture Arts Village from 11-9:30 p.m. Tickets are only $20 for adults and $10 for children. Purchase at www.southwaltonacademy.com.