By Lori Leath Smith
Each day approximately 22 U.S. Veterans commit suicide. Let that sink in—22!
"Seriously. One is an outrage and a tragedy," says Gayle Vann, marketing events coordinator for Legendary Marine. "Short of suicide, our brave men and women, military and first responders across the nation and abroad are struggling with symptoms related to PTSD and other byproducts from defending the front lines."
Hence, the Emerald Coast Honor Games was born when the vision of Lt. Sean Lynch of the Okaloosa County Sheriff's Department was realized. Filled with competition, honor, community, fun, food and world class views; the community, competitors, vendors, Veterans, special guests and current "defenders" come together on Nov. 9 to raise funds to support defenders of the front line. Held around the world's largest U.S. flag, Vann says, "Our overall financial goal is to raise $100,000 for five main stream, fully operational entities that exist for one purpose—to support veterans and first responders in times of need. Our communities, our nation and our planet call upon these brave men and women to defend our liberties, keep our streets safe, and provide cover in a dark and twisted world," she says. "We aim to honor them in this way."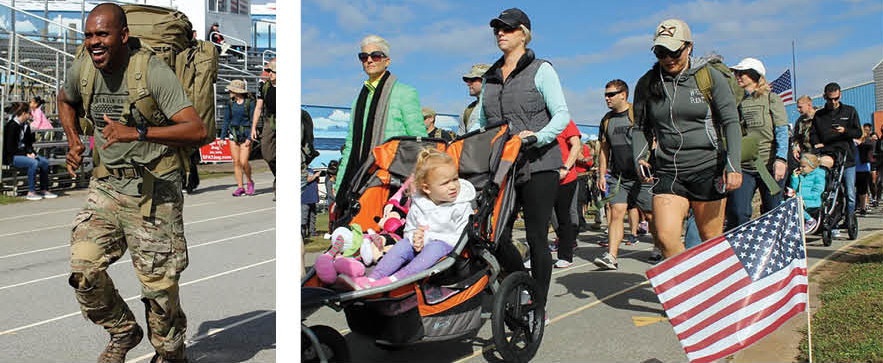 "With the nation's third largest Veteran population per capita and thousands of first responders along the Emerald Coast, our community must stand united and in total support of these brave men and women defending the front lines in a world of chaos and evil," says Vann. "Freedom comes at a cost. Whether it's paying the ultimate sacrifice or leaving loved ones at home when duty calls, every defender sacrifices something," she says. "The saying, 'All gave some and some gave all,' is the truest reality we face."
With Legendary Marine and Yacht Club, Legendary Marina, Lulu's restaurant, Destin Middle School and Destin Commons as a one of a kind, world class venue, an "Honor Breakfast" and national anthem will kick off the festivities. Then, the games begin with the third annual "Ruck 22" event, an honorary ruck/march/walk in which the entire community, and children included (with parents present) are invited to join. "We want to provide the community with a unique opportunity to engage, interact and join area soldiers in an honorary ruck march with 22 full laps around Destin Middle School's track," says Vann.
New this year is the "Ruck 22 Challenge" which features 22 movements (all ages and abilities welcome) designed to challenge your fortitude. Movements include running, Burpees, jumping, sit-ups, and other common movements that can be adjusted to accommodate ANY fitness level or movement limitations. "With these two events alone, your entire family can do something special to let our Veterans know that you stand in support of their sacrifice," says Vann.
The Emerald Coast Honor Games also features a fitness competition with various divisions to bring out your best inner warrior. Hundreds of competitors embark on a day of strength, conditioning and grind during four major fitness events. With popular vendors, raffle and silent auction items, special VIPs, local heroes, music, food, kids' area, and other patriotic ways to engage, the Emerald Coast Honor Games provides our community an opportunity to show our pride and honor. You can come out for one part early, one part later or do it all!
To participate as an athlete, supporter or volunteer or for more information, visit emeraldcoasthonorgames.org.