A Local Heritage of Business, Family and Integrity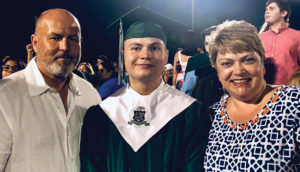 At age 3, John Michael ("Mike") Ward helped his dad change the spark plugs in his "wheel-stand" racing truck. He learned to weld and fabricated a utility trailer for the family's riding lawn mower at 10, then rebuilt the motor in his mom's 1965 Buick Rivera at 11. With this God-given talent, he always knew he would be a business owner in the automotive industry when he grew up.
Mike is a true local, born in Fort Walton Beach and moved to Destin in 1970. He grew up surrounded by all things automotive. His dad, Johnnie, was a highly regarded service manager at dealerships around the state and owned his own small automotive repair shop with Mike's mom for several years. Uncles on his mom's side of the family (the L'Oranges of Valparaiso) owned automotive repair shops and worked in parts stores. Racing was the family's preferred weekend hobby.
In March 1986, upon graduation from the University of South Alabama, Mike's business ownership dream became a reality. He and Johnnie opened John-John Auto Parts in a small storefront in Miramar Beach (where Romeo's Pizza is currently housed). Around that same time, another small business was getting off the ground down the road—Santa Rosa Beach Auto Repair, the first stand-alone automotive repair shop in South Walton County. The repair shop became a long-time customer of John-John Auto Parts.
The parts store shortly moved to Santa Rosa Beach and became a fixture in the community. Many years later, Mike was ready for expansion and the owner of Santa Rosa Beach Auto Repair was ready to retire. It was an opportunity too perfect to pass up. On Jan. 1, 2001, Santa Rosa Beach Auto Repair re-opened as John-John Automotive and within a few weeks, John-John Auto Parts was relocated there as well. 2001 was a year for expansion in Mike's life. In June of that year, he and his wife Lori welcomed their first child, a son they named John Huston Ward. Even then, Mike was passing on the "John" moniker, in hopes his son would one day in the future take up the John-John mantle.
Ever the entrepreneur, Mike has operated numerous businesses under the John-John Enterprises umbrella over the years, the latest of which include a towing division and a site work group which operates as John-John Earth Worx. He is also a partner in Dispozall Dumpster Rental with friends Bryan and Melanie Cuff. And, it turns out, he might have been onto something giving his son the family name: Huston (as he is called) graduated high school in 2019 and went straight to work behind the counter at John-John Automotive, on a path to take over the family business when Mike is ready to pass the torch.
When asked about his formula for success over the years, Mike's humble, servant heart quickly becomes evident: "Work hard, take risks when opportunity presents itself, and cover it all with a lot of prayer." The Ward family welcomes everyone to stop by and see why they call it "The Place So Nice, They Named It Twice." John-John Automotive is your hometown source for automotive parts and service (and now towing, site work and dumpster rentals) for nearly 35 years. Call them at 850-267-2750 or email mike@john-johnonline.com.