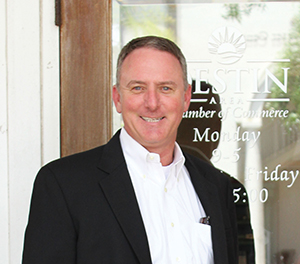 By Shane A. Moody, CCE, FCCP, President & CEO, Destin Chamber
As you put plans in place, take action and move forward, you never expect anything like the COVID-19 crisis. It seems that the country, the state, the county and our cities have completely shut down overnight, and understandably so.
Now more than ever, everyone needs to shop and buy locally. That's a message that the Destin Chamber of Commerce has always carried. But at times like these, local support is all these businesses have.
Support local restaurants by ordering for delivery or take-out. Support local stores by buying locally (even if you order online and go pick up your order) and staying off Amazon and other online retailers. Support local service businesses by using local CPAs, attorneys, and other professional services you need. Our local businesses are the bedrock of the community.
The people who work in these businesses and own these businesses are our friends. They are our neighbors. They are our families. They are sponsors of little league, youth soccer and basketball, local events, and more. They are consumers in the community. They are job-creators and add so much to the quality of life for so many of our citizens. By buying from them, you are saving jobs for our residents.
Not only are you supporting the local businesses and local employment, you are also supporting the tax base of our community. Sales taxes are used by our state, counties and cities to build and maintain local infrastructure and basic community needs for us to live safe and comfortable lives.
The Destin Chamber has partnered with a new initiative, Save Florida Business. By visiting, www.savefloridabusiness.com, you can choose a business from which to purchase a gift card. For $75, you'll receive a $100 gift card for later use. This program will provide cash flow for these businesses.
If you're looking for resources to help you in your business, please go to www.destinchamber.com and scroll to the middle of our home page. We have many links there to connect you to multiple organizations and resources.
So, in this trying time, go out and buy from someone local. Support your friends and neighbors and taxpayers. This community has always pulled through and helped each other. There's never been a more important time to do that than now. That's how we'll continue to build this world-class community!