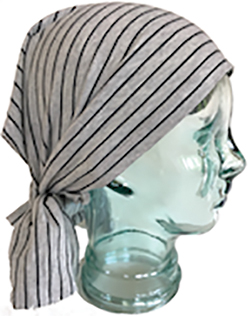 Phyllis La Monica, breast cancer survivor and a silver sponsor for Fore Her 'Pink Walk' at Destin Commons, has introduced her handmade ScarfEZY scarves. She is the founder of creativeLiterals, and the designer and seamstress of ScarfEZY, a scarf specifically designed for those who lose their hair during chemotherapy.
The story behind the ScarfEZY began with Phyllis's breast cancer surgery in 2008. Adjuvant chemotherapy treatments in 2009 caused the loss of her hair. Not finding an affordable, simple, easy-to-wear scarf, Phyllis designed and sewed her own.
Now, 10 years after surgery, she is a grateful cancer survivor who wants others to have the same advantages her no-nonsense scarf offers. This past spring, she started her own business, creativeLiterals, with the intent to make her scarves available to others who suffer hair loss. Phyllis states, "ScarfEZYs are designed specifically to be a simple, no-fuss scarf for cancer patients, but," she notes, "they are perfect for anyone with a need for a comfortable, easy to wear scarf that fits securely."
Phyllis donates a portion of her sales to cancer research and believes in the Fore Her mission. Fore Her raises funds to help women locally who are battling breast cancer and those in need of financial assistance. The women who receive help are able to use the money to pay for their mortgage, car, utilities, medical expenses, a well-deserved vacation after recovering from treatments, or a last vacation with their families. To Phyllis, the organization's mission comes from the heart and addresses the realism so many cancer patients encounter. Her mission is to help make their lives more comfortable. With the support of donors, Fore Her is able to help lift the burden of finances off of the shoulders of breast cancer battlers.
ScarfEZYs can be purchased at participating fine retail shops. A listing of shops can be found at https://creativeliterals.com/. Interested wholesalers should contact Phyllis at info@scarfEZY.
To find out more about Fore Her, to donate or for resources, visit foreher.org or email info@foreher.org.