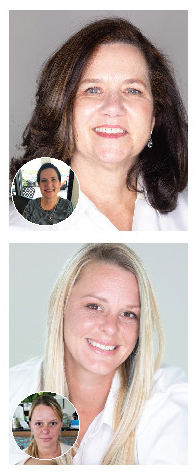 Women can be harsh on their own appearances, especially if they've been through any kind of hardship, negative life situations or trauma. Reminding a woman how beautiful she is comes with making her feel good about herself and appreciating her in an unselfish way.
Savannah Rae Beauty is doing just that—using their expertise in the community to help women who have faced adversities feel confident and good about themselves. Through their annual You Shine event, they offer make-overs and gift packages for underprivileged women who receive massages, highlights, color, haircuts, tanning, facials, make-up.
Recently, Savannah Rae requested stories and nominations of women who were struggling and who might need or want a makeover. They wanted to help as many as possible, so they solicited volunteers from the community to help accommodate the many requests. Savannah Rae St. Jean says there was an extensive list of volunteers and businesses needed to make it happen and she is thankful for the response.
The charity was formed five years ago by one of Savannah Rae's stylists, Mary Cornelison Bross. Mary has struggled in the past. She once was homeless and living out of her car with a toddler. A Good Samaritan at that time showed compassion and gave her a makeover. She was touched so deeply, she promised to do the same once she was able.
Some are searching for how they can look in the mirror and feel confident about the woman staring back. Savannah Rae Beauty is elated to help play a role in answering that question.
Savannah Rae Beauty is located at 12272 Emerald Coast Parkway in Miramar Beach. Visit www.savannahraebeauty.com or call 850-650-2233.