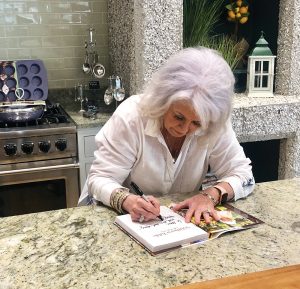 There's a new restaurant in town, full of southern favorites and family values. Paula Deen's Family Kitchen, which opened March 4th in the Destin Commons, is a family style restaurant filled with all her favorite southern dishes. From collard greens to fried chicken and sweet tea, enjoy all staples of southern cuisine at her first Florida restaurant location.
The Queen of Southern Cuisine said she chose Destin, Florida for a variety of reasons. Growing up in Albany, GA, her family frequently traveled to Florida to visit family, so the state holds a special place in her heart. The Panama City and Destin areas may be north Florida, but they still have deep southern roots and she hopes they'll appreciate some good southern food.
The restaurant and retail shop reflect the characteristics Deen is known for. She chose the family style from all the mismatched bowls of food at her family gatherings while growing up; the take a lit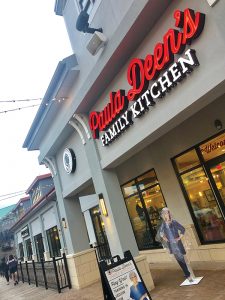 tle of everything and share with your family and friends approach. The retail shop boasts a replica of Deen's home kitchen for photo opportunities, and combines her cookbooks, spices, and favorite products for purchase.
Living in a tourist community, we had one pressing question for Deen: with so many northerners visiting Destin, what do they need to know about good southern cuisine?
"I think the south has gotten an undeserved bad rep for unhealthy food," Deen said. "In the last 25 years of traveling, I've never been anywhere that served more vegetables than we do here in the south. We've got cucumbers, tomatoes, squash, okra, lettuce, corn, cabbage, so many vegetables! I would like for them to just try our food and realize they're not eating all that bad."
We also asked what her staple was for family gatherings, the dish they can't live without. Not surprisingly, her Not Yo Momma's Banana Pudding was the real winner, a staple on the restaurant menu.
Paula Deen was sweet as can be, even stating that what she loves most about her book signings and public appearances is getting to meet and talk to all kinds of people. "Some make me laugh, some make me cry, but I love talking to every single one," Deen said.
Our last question… Lemonade or Sweet Tea? Easy. She is sweet tea through and through. Find her restaurant in the Destin Commons next to Uncle Buck's Fishbowl for a true southern cuisine experience.