By Lori Leath Smith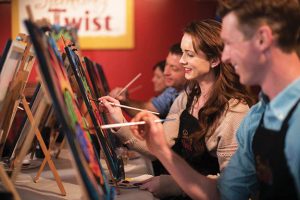 "Art is not just for the multitalented.It's not just for the rich. It's really for everybody, and everybody should feel comfortable with art." -Painting with a Twist co-founder Cathy Deano
"Painting with a Twist is fun art, not fine art," says Barbara Dean and David Presnell, franchise partners in Ft. Walton Beach. "And we love it! If you'd told us three years ago that we would be running a business where people from all walks of life can come in, bring a drink if they want, let their hair down (and their phones) and simply have fun painting all kinds of crazy, beautiful and sensational art, we would've laughed."
But that's just what they've ended up doing after finding themselves at a ribbon-cutting for the Pensacola location and becoming enamored with it! "We wanted to offer the same experience of laughter, relaxation, freedom and just plain fun to others," says Barbara. And, now they provide a fun atmosphere where folks can de-stress, step away, laugh, talk, giggle, admire, ponder, and well…create their own masterpiece and leave with something they painted themselves. "I think that's part of the draw—people are forced to slow down and get away from the digital world for awhile," says David. "You've got your paintbrush in one hand, your glass of wine in the other, and the only time you might pick up your phone is to take a photo and post it."
Barbara and David say they've witnessed what the fun art and classes can do for people's mood and how they appeal to all ages, simply getting people to connect, not only with others, but also with their inner artist. "This, I believe, is why we have many repeat customers, who are now our friends, and come back time and again for this unique experience," says David. "And each time, it's a little different because they create something completely different. I'd love to see the walls of some of their homes where they hang the pieces they've painted and collected," he says.
Barbara and David offer evenings of pure joy for all kinds of groups, individuals and couples—whether it's private parties, bachelorette parties, bridal showers and luncheons, couples' nights, office parties or team building. "There's really something for everyone," says Barbara. "And you don't have to have painting talent. We have local artists on staff that guide you each step of the way on how to paint your own beautiful work of art. And when you're done, you are amazed!"
"One of the most popular offerings is the couples' paintings," says Barbara. "Each person paints a canvas designed to fit perfectly, and voila! They've created two separate pieces that combine into one—a work of art that they'll cherish always."
When you walk through the front door of Painting with a Twist, you are first greeted by the studio's furry mascot, Marley, who makes everyone feel at home. Once you choose your design and find your seat, you begin to create a work of art coached by the artist using paint, brushes and materials provided by the studio. You can choose from over 10,000 original copyrighted designs ranging from animals, landscapes, abstracts, characters, cityscapes, florals, etc. Traditionally, you would paint on a bare 16" x 20" canvas, but the studio offers other canvas sizes and surface types. You can even bring your own beverage and snacks; hence the "Twist" in the business name.
Barbara and David say though they love what they do, there is also a broader purpose through the company's Painting with a Purpose program. In keeping with the founders' fundraising roots, Barbara and David plug themselves into the local community by donating a percentage of proceeds from Painting with a Purpose events to charities; more than $2 million has already been given. "The philanthropic efforts and the opportunity to make art feel accessible are the most exciting aspects of running the business," says Barbara.
Painting with a Twist in Ft. Walton Beach is part of the nation's largest and fastest-growing paint-and-sip franchises. Its humble beginnings were the desire of two friends who wanted to impart hope to people suffering after Hurricane Katrina in 2007. Ten million paintings and more than 300 franchises later, it has stretched far beyond its Louisiana roots. And we're glad Barbara and David have expanded this hospitality in our community.
255 Miracle Strip Parkway SE
Suite B-8
Ft Walton Beach, FL 32548
850-226-7218
PaintingWithATwist.com