By Rita Sherwood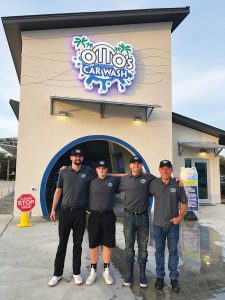 An eco-friendly car wash at the beach? Why not? That's what father and son duo Todd and Jon Garey set out to do, and boy did they succeed! With features like a metal reflective roof, solar panels down the west side of building that produce solar power, and a reclaimed water system, the car wash is green. Add to that features like concrete instead of a blacktop surface which keeps the ground 15 degrees cooler, soon to be installed canopies to shelter you when you vacuum, and angled driveways so truck beds can drain properly, you've got a winning combination.
An entrepreneur from Indiana, Todd says, "I feel it's important to teach my son to be an entrepreneur too." This is a joint venture for both of them, and even his wife is involved with the car wash's office administration. "It's truly a team effort," Todd says. "Jon and I feel very fortunate to have assembled such a great group of employees in such a short period of time." Vacationing here for 18 years, Todd says his family is happy to now be locals here on the Emerald Coast remarking, "I don't miss the Midwest one bit!"
Todd modeled Otto's Car Wash after conveyor type car washes in other big cities, that he was familiar with. He felt like with more than four million visitors coming to our area, specifically Okaloosa and Walton counties, every year, that they'd probably be most familiar with this type of car wash. Plus, with 87% of those people driving here instead of flying, well, you do the math.
Otto's Car Wash has the following features:
Three access lanes to a 130-foot tunnel
Automated pay stations
Four wash options from $9-$20
Extra pre-wash bug prep for mirrors and grills
Tire shine applicator
19 free vacuum spots
Two free high-tech mat washers
LED light show for premium washes
And to make the experience a little different, they also offer two monthly club memberships for $43.98 and $54.98, and a 10% military discount. Are you an Okaloosa County Sheriff or police cruiser? Free ultimate car washes for you!
Also, for the many visiting guests, Todd hopes to include Otto's car wash information in as many welcome packets as possible, ensuring their presence when those vacationers check into that hotel room, condo or house.
Since opening just this past January Todd says, "Business is great, we're even starting the process of looking at a second location in Santa Rosa Beach."
For more information, visit ottoscarwash.com, their Facebook page or call (850) 974-9994.