By Cali Hlavac
This year marks the 62nd year for one unique Destin tradition – one that many locals look forward to before the busyness of summer sets in. The Blessing of the Fleet is one of Destin's longest standing traditions, and it brings out locals and tourists for a ceremony unlike any other on the Destin Harbor.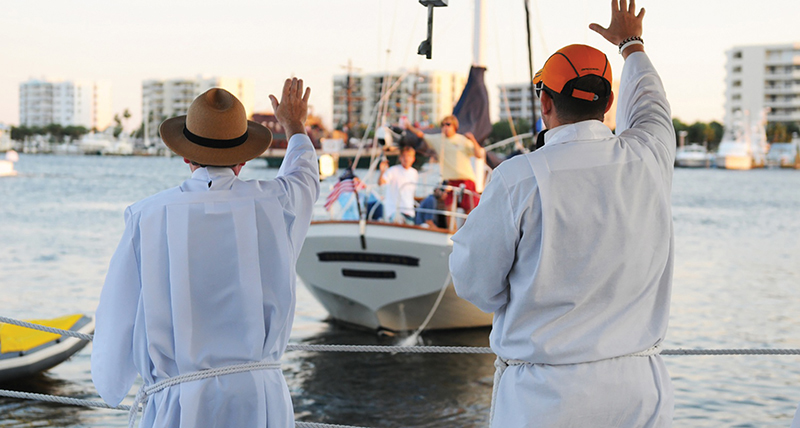 On Ascension Day every year, local pastors gather behind Brotula's on the Harbor to bless charter fishing boats, boat captains, crews and passengers for a safe and bountiful busy season. Many captains attribute the success of their season not to luck, but to these blessings. This tradition has held for many years, even as Destin evolved from a small fishing community to the World's Luckiest Little Fishing Village it is today.
The Blessing of the Fleet began in May 1958 with about 12 boats and has since grown to over 150 boats in 2018. Numbers like this make it the largest Blessing of the Fleet in the country, with families making it tradition and participating every year.
"We started participating in the Blessing of the Fleet on my father-in-law's charter boat in 1995," says Heather Thomas of Destin Vacation Boat Rentals. "Destin has changed a lot since then, so we really enjoy this part of Destin tradition that celebrates the faith and sense of community that our little fishing village was built on. When you line up with all of the other boats on the Harbor waiting to be blessed, there's this sense of togetherness… it's really special."
While it was started by the Episcopal church, it has since evolved into a community of pastors and all churches banning together for the greater good, and the Blessing of the Fleet is open to all believers and non-believers alike. The hope is that any commercial vessel and its captain will feel welcome on the water. Any vessel with a crew that makes its living on the sea that wishes to be blessed can line up and wait its turn in a parade-like fashion. Boats can register by calling 850.837.6324 or by visiting immanuel@iacdestin.org.
The "blessing" will happen this year on May 30, 2019, on the water behind Brotula's in Destin. A short church service precedes the blessing beginning at 4 p.m., with the actual blessing starting at 5 p.m. Come one, come all and celebrate the kick off of summer and wishing all the boat captains well!
Cover photo by The Good Life Destin