By Cali Hvalac
Nestled back on Stahlman Drive near our Destin Community Center lies a small house-like building showcasing the history of fishing in our beach town, known as the Destin History and Fishing Museum. January is a great time visit and see first hand the journey our city has gone through since Leonard Destin landed ashore in 1835.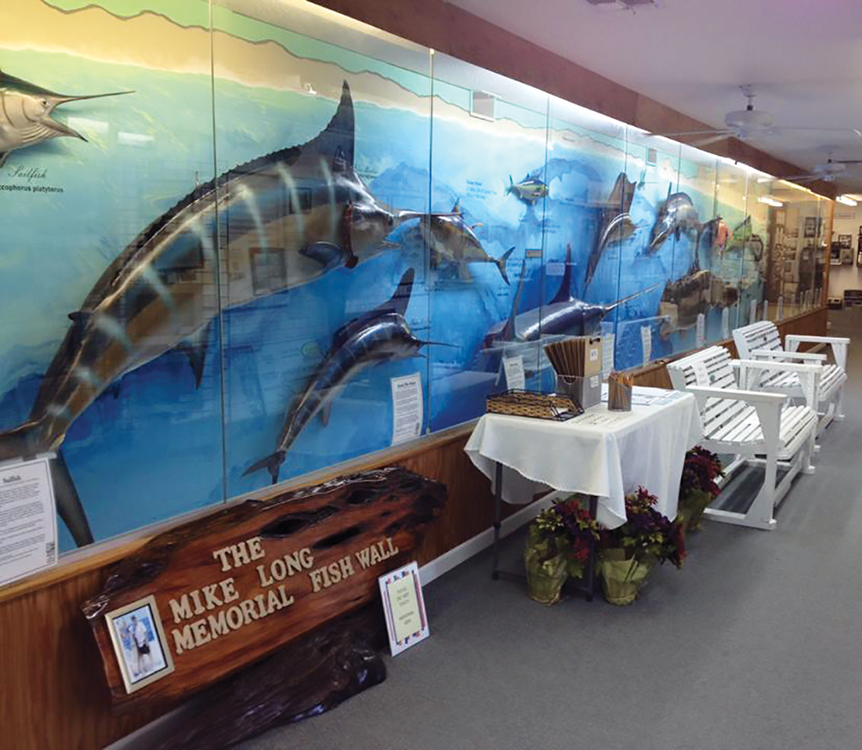 The Destin Fishing Museum opened Oct. 1, 2005 with a goal to share the story of how our small fishing village became a major tourist attraction. It houses thousands of historic photographs, artifacts, fishing equipment, murals, fish mounts and even some historic boats from the early days. There is even an entire section dedicated to our famous Destin Fishing Rodeo that showcases notable catches, records, and more.
Outside the front door is what is known as Museum Heritage Park. Wander through and see restored boats such as the Primrose, the last seine net boat in Destin. You'll also find the old Destin post office that was built in 1936, restored and full of exhibits. Another favorite is the huge replica of a Megladon Shark jaw, a perfect place for a photo opportunity.
Upon entering, you're greeted by the staff who offer a variety of ways to experience the museum. From scavenger hunts, to self guided tours with or without audio headsets, to having a staff member lead you through and answer your questions, the choice is yours. The museum is currently open Tuesday through Saturday from 10 a.m.-4 p.m. with a small admission fee to the public ranging up to $5 a person.
In one corner you'll find cabinets of old black and white photos from the early days, with women and men posing by their monster catches on the docks of what is now Harborwalk Village. See images from Destin's first Rodeo, families posing by fish boards, and even proud anglers posing next to fish 3 times the size of themselves. In the days without rules or regulations, these photos showcase a different time and culture when it came to the sport of fishing.
From there you can wander through the backside of the building, which houses the bulk of the exhibit. Destin's history hangs on the walls from the times of Indians, stories of how life was back then paired with artifacts and photos. As you move through, you'll learn how the boats and fishing equipment evolved over time, what commercial fishing was like and why it was important, and how our city has changed over the years as fishing grew.
Pause at large exhibit in the middle of the room and you'll notice over 70 locally caught fish, mounted, with details of the species of fish and where they can be found in our Bay or Gulf. Next to that is the history of fishing poles and bait, what was used to catch this variety of fish. As you near the end and where you started, you'll find the museums gift shop with a variety of t-shirts, seashells, posters, history books, ornaments and more.
The Destin History and Fishing Museum is a must for any fishing enthusiast, history buff, or anyone with interest in the evolution of our fishing village. Make plans to stop by and support this non-profit and all that they're doing to preserve and showcase Destin's rich history and the luckiest fishing village in the world!