By Cali Hlavac, To Do In Destin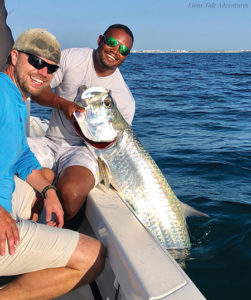 Last month we talked about the hype of Red Snapper season in Destin, the fight they put up and what a tasty dinner they make. While they are a highlight for most anglers each summer, a lot of other great species are biting this time of year for those who have had their fill of Snapper.
For starters, schools of Tarpon have finally arrived on our Emerald Coast and that excites even the most novice anglers. Tarpon, also known as the Silver King, is one of the most sought-after fish to be caught. You might have to hunt for them, but they can be found in schools, swimming nearshore, looking for food. These beautiful creatures have been around for hundreds of years and are one of the toughest fish to get to the boat. Watch them spin and roll on the surface of the water, and once hooked they will fight and jump in the air, trying to loosen the hook. A full Tarpon fight can last hours – even with no guarantee they'll get to the boat. These fish can fight longer than most, because they breathe air like us. So, with every jump in the air, they take a gulp of fresh air and get another boost of energy.
Because Tarpon are a protected species, even if you do get one to the boat, you cannot remove it from water. Pulling them up the side of the boat by their mouth for a quick photo is the closest you'll get to holding one here in Florida, and even then, at least 40 inches must remain in the water while doing so.
We see them in Destin from early June to early August typically, as they migrate through to South Florida. "One of the reasons why the tarpon fishing is so good along Florida's northwest coast is that the fish are in full-on pre-spawn feeding mode. They're hungry, and very likely to attack a well-presented fly, lure or live bait." via VisitFlorida.com.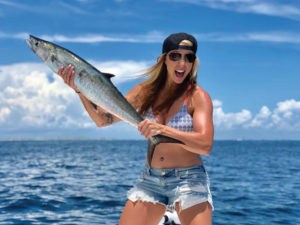 Other fish we're seeing more of are King Mackerel and Grouper, both of which can be caught offshore in our Gulf while fishing for Snapper. Both Red and Gag Grouper will bite while bottom fishing near a structure, but King Mackerel prefer a trolling bait to latch on to. Both are open season right now and are some of the top eating fish you'll catch.
As far as inshore fishing in Destin, redfish and trout are two sought after fish in our Bay this time of year. Finding those slot sized redfish means seeking them out in places they'll be nestled in, eating. The slot sized fish typically prefer Oyster beds, bridge piling and docks, and it's a bonus if you can find them in depths of 5 ft., with a shallow patch nearby. You can catch redfish on crustaceans, using shrimp or crabs or even pinfish or croaker. They will even bite the right artificial bait when thrown at them.
We'd love to hear what you're catching! Email us at fishing@todoindestin.com with your fishing reports along with any photos to highlight your trip. Stay safe and tight lines!