Out of all the exciting things to do in our area, fishing tops the list for many locals (and visitors.) Okaloosa Island in Fort Walton Beach provides a prime location for all different types of fishing.
Beaches, piers, bridges and our charter fishing industry nearby offer more than just one way to catch that prized fish you've been waiting for. From minnows to mackerel, anglers can expect to reel in a wide variety of game fish and table fare on Okaloosa Island. Finding the top fishing spots can be tricky even for locals sometimes.
Spread across Okaloosa Island are some of the region's top fishing destinations where you can enjoy your fishing year-round:
Okaloosa Island Pier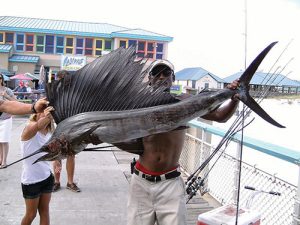 The first favorite for many local, avid fishermen is the Okaloosa Island Pier. This 1,262-foot pier is located on the west end of Okaloosa Island, at the heart of the Okaloosa Island Boardwalk. The pier provides everything you would need for a day of fishing including licenses, equipment (for sale or rent), and bait. You can expect to catch practically any kind of Gulf fish off the massive pier. Most commonly encountered are Redfish, Tarpon, Mackerel, Ladyfish, and Hard-Tails. But through the year, Blowfish, Sharks, Sailfish and many more exotic species have been pulled out of the water. From mid-March through October, the Pier is open 24 hours, with the times changing to 5 a.m. through 9 p.m. October through March. Admission rates vary, but the price for an adult ticket is $7 and includes a fishing license.
On the east end of Okaloosa Island lies the Marler Bridge. This famous Emerald Coast bridge connects Okaloosa Island to Destin and overlooks the Choctawhatchee Bay, Destin Harbor and the Destin Pass. Throw a line off this structure and you're bound to catch something good. Sheepshead, Black Snapper and Redfish are going to be your main targets, but plenty of desirable fish are waiting to be hooked! Fishing on the bridge is free and legal providing you stay within the posted locations. And as long as the fish is within the required limits, it's good to keep!
Surf Fishing (Gulf Side)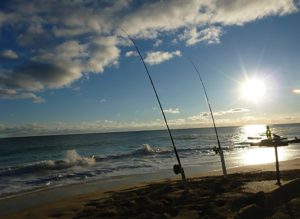 There's nothing like rigging up a surf rod, wading out to the drop off, and casting a deep line! Surf fishing, or beach fishing, allows some of the freedoms that bridges and piers do not. You need only avoid the swimmers, and you'll find yourself in a perfect fishing location free to cast anywhere, set up a chair, and chill out while waiting for the big one to bite! Most of the public surf fishing goes down to the beaches behind Santa Rosa Boulevard Condos and the Okaloosa Island Boardwalk. But if you drive towards the east end of the island, you'll find patches of public beach that are more secluded, a local's favorite and prime for surf fishing. It's almost impossible to predict what you'll catch from the beach, but Pompano, Redfish, Kingfish, and Catfish are some of the usual suspects!
Surf Fishing (Bay Side)
Surf Fishing in the bay as opposed to the Gulf isn't quite as popular, but provides a whole different experience. Park along Highway 98 on the north side of Okaloosa Island along the long stretch of public beach and set up shop. Find Speckled Trout, Redfish, Flounder, Ladyfish, and Bluefish while surf fishing in the Choctawhatchee Bay! Anglers opt for lighter gear when fishing the bay, and live bait including finger mullet, shrimp, and pinfish are sure to attract quality catches. If the northside beaches aren't yielding the desired results, try fishing the waters in the area under the Marler Bridge. Here you'll find free public parking, and easy access to quality seaweed beds and drop offs.
West Jetties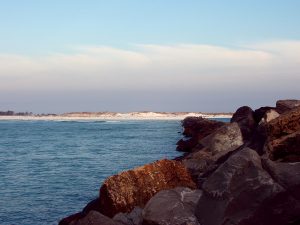 The giant rock piles known as the "East and West Jetties" border the Destin Pass. The East Jetties lie in Destin, and the West Jetties are part of Okaloosa Island. Fishing off the West Jetties is a perfect example of "extra risk, extra reward." The Jetties are accessible to you, but take a little extra effort to reach. Packing light is encouraged, and the right footwear will go a long way when climbing massive boulders to reach the best fishing spot. Snag various Gulf fishes including Grouper, Snapper and Spanish Mackerel fishing from the West Jetties, and make sure to steer clear of snorkelers, surfers and passing watercraft.
Provided by TripShock.com, an online marketplace that allows activity and tour providers to sell their products and services to travelers across several different advertising mediums. Based in Destin, TripShock operates in 12 Southeast destinations including New Orleans, Destin, Myrtle Beach and Key West.