By Sheriff Larry Ashley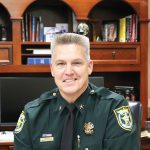 Residents and visitors alike along the Emerald Coast are lucky to have the invaluable assets of a vigilant, professional, and well-trained Okaloosa County Sheriff's Office Marine Unit at their disposal.
This unit focuses on maintaining water safety in our extremely crowded waterways by working to crackdown on BUIs, (Boating Under the Influence), enforce No Wake Zones, and prevent accidents from careless or reckless boating operations.
In 2018, the OCSO Marine Unit responded to a record breaking number of calls for service standing at 2,707. That included 974 vessel and traffic stops, 212 boating citations, 76 arrests, and 83 distressed swimmer calls.
Enforcement, however, is only a portion of the Marine Unit's mission. Our deputies also promote boating safety and education at every opportunity. They participated in the national "Designated Skipper" program, a "Wear It" campaign focusing on wearing a life jacket while on the water, and a "Recognize the Signs/Think Before You Dive" initiative. In the Think Before You Dive program, educational materials were provided to boaters and floating businesses around Crab Island. This partnership with the Fort Walton Beach Medical Center resulted from concerns over nine spinal cord injuries from diving into shallow waters around Crab Island in 2016 and 2017. The effort paid off with zero spinal injuries reported in 2018.
Alcohol is a major factor in many of the boating and waterway accidents in our area. So enforcing Boating Under the Influence laws are always a primary focus. Our Marine Unit took part in 2018 "Operation Dry Water," joining forces with 22 law enforcement agencies across Florida to target impaired boat operators.
Working with the United States Coast Guard, Florida Fish and Wildlife Conservation Commission and U.S. Customs Marine Interdiction Unit provides marine force multipliers in enhancing public safety on area waterway. Last year our Marine Unit joined forces with the US Coast Guard Mobile Sector during busy summer weekends, providing additional boarding officers to help with BUI investigations, arrests, and disturbances.
As an area that's been named one of the top boating destinations in the country, our Marine Unit works tirelessly to enforce boating laws designed to protect public safety, and to educate residents and visitors with potentially life-saving information. Our deputies typically respond to numerous distress calls each year, and are often instrumental in rescues that have on occasion garnered national attention.
We encourage everyone who takes to the water to be vigilant, know the law, and know your limitations. Our waterways are meant to be enjoyed and for that to happen, we need everyone to participate in making safety a priority.