By Lisa Leath Turpin
From the moment each cheerleader is announced in May, the conditioning, training, practices, meetings and fundraising begins. With not a second to lose, Coaches Rebekah Harrison and Kristal Duval distribute the schedule. This is a year-round sport now and the team's immediate focus is UCA's Masters Cheer Camp at the University of Alabama.
This year they brought home Excellent Stunt Sequence, Superior Cheer, Best Body Positions in Stunt, 3 pin it forward recipients, 3 seniors made All-American Cheerleaders. While there, local connection Charles Morgan, owner of Harbor Docks, hosted the 28 athletes at one of his other restaurants, FIVE Tuscaloosa. They even sported cool FIVE ball caps and T-shirts from Charles. Thank you Charles!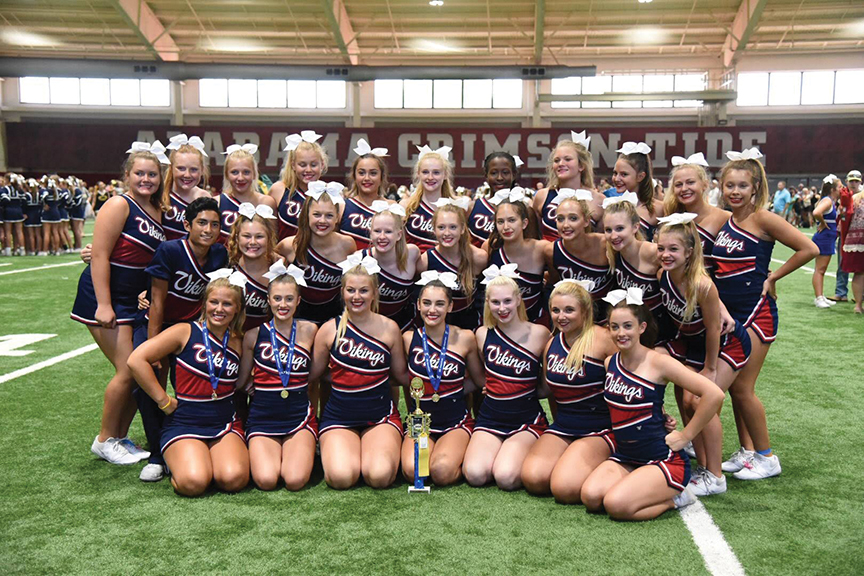 CONGRATULATIONS TO THE 2018-2019 FWBHS CHEERLEADERS! (listed in alphabetical order) SENIORS: Sydney Cope, Breanna Cutts, Peyton Goodwin, Hillary Henley, Erin Moore, Madison Newton. JUNIORS: Megan Armbruster, Stephanie Austin, Makenzie Coe, Shallan Lochtefeld, Hayden Lowery, Kristian Murray, Brooke O'Keefe, Micah Robertson, Jessica Scott, Lauren Turpin. SOPHOMORES: Carli Cardow, Emma Daldine, Madison Goodwin, Camy Larumbe, Jocelyn Solomone. FRESHMEN: Ella Adams, Lindsey Bouck, Angelina Chiola, Alexandria Cooper, Piper Hubbard, Cassidy Lang, Amy Syverson
While training, they also mix in "Flips for Tips" or "Bussing for Bucks" at local restaurants. SPIRIT NIGHTS are held every month. This is a win-win opportunity for restaurants to show local school support and thus, receive more business; and the cheer program receives a portion of the proceeds from dinner sales. This is just one of the many fundraisers throughout the year. Keep an eye out for where the Cheerleaders are each month and enjoy some yummy dinner, show support and socialize with these awesome athletes! A huge shout-out to Cici's Pizza and Rick's Crab Trap Seafood and Steaks for hosting the first two spirit nights this season!
In August, join us for Spirit Night at Harry T's Lighthouse at Harborwalk Village. FWBHS Cheer events with dates and times are posted on the team's Facebook page. Search FORT WALTON BEACH HIGH SCHOOL CHEERLEADING for upcoming activities and events.
In June, more than 400 locals attended the first ever Cheer Seafood Boil! Thank you to AJ's Seafood and Oyster Bar for graciously providing the scrumptious food and staff for this successful event. Buckets of crawfish, shrimp, corn and potatoes were enjoyed along the Destin Harbor as Galati Yacht Sales so graciously donated their beautiful harborside area. The cheer squad thanks everyone who came out, one of the most fun events ever hosted.
Fundraising is an integral part of the cheer program to help with travel costs, uniforms, camp fees, competitions and hotels. This is why the coaches, cheerleaders, and especially the cheer parents, value local area business sponsors, spirit night hosts, fun run participants and friends and family that donate and show support. "Without our sponsors and loving support of the community, we would not be able to excel or have a program that allows these kids to do what they love," says one cheer mom when asked about the seemingly endless fundraising. One thing is for sure: fundraising keeps the cheerleaders busy, builds fellowship among the athletes, and teaches them strong people skills and work ethic. We thank all who have invested in the cheer program. Please join us for a game this season, review the sponsor logos displayed and support those businesses! If you are interested in becoming a sponsor, email FWBHSCheer@gmail.com.