By Lori Leath Smith, Destin Forward class member
Our 2019-20 team of business professionals continue to learn from the experts—October's class on tourism unveiled a lot. Okaloosa County TDD Director Jennifer Adams revealed that according to the World Education Symposium, 49% of children spend less time outdoors than prison inmates. "It's time to change that," said Jennifer, "and bring out the diversity, richness and quality of our area. What's good for local residents and businesses is good for visitors." Stay tuned for an exciting marketing and rebranding campaign!
In our "Accommodations" panel discussion, we heard from several community leaders: Michael Taylor of Vacasa, Ken Wampler with Newman Dailey Resort Properties, Inc., John Toombs of Harmony Beach Vacations, and Ron Whitfield from ResortQuest by Wyndham Vacation Rentals. All concurred what makes our destination attractive is the variety and diversity; customer service such as personal phone calls, engagement with the customer, becoming an informational resource, being responsive and adjusting to customers' needs; these all make the most positive customer experience.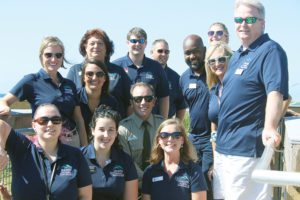 One of the highlights of the day was stopping by our beautiful and historic Henderson Beach State Park. Did you know the land used to be owned by the U.S. Navy which used the lumber for war ships? After this, Bernie Henderson bought six miles of this land for $25,000 and, in 1982, sold 1¼ mile for 13 million to the state! Officially opened in 1991 after new Hwy. 98 was constructed, the park now has many natural resources such as sea turtle and shorebird nesting and welcomed 476,000 visitors from May-September this year. It's also one of the top 10 volunteer outlets in Florida!
At lunch at Fudpucker's, we heard about some of our area's best attractions from Trey Tisdale, Gator Beach at Fudpuckers trainer, Patrick Berry from the Gulfarium and Jearl McCall from Emerald Bay Golf Course. If you haven't visited the Gulfarium lately, you'll find there's so much there…seals, penguins, otters, reptiles sharks, stingrays, dolphins, turtles and more. Captain Steve and Wendy Wilson, owners of the Buccaneer Pirate Cruise, birthed the first dolphin eco-tour in the Destin area responsible for sparking an entirely new tour boat industry here. Integral in their success has been giving back to the community and offering a high-value form of family fun at a low cost. And, of course, we were treated to the World's Greatest Alligator Park Tour at Fudpucker's! Did you know there's a true, albino alligator there? I mean, even his eyeballs are white!
We also discussed the challenges and impact of planning and executing events from some of our area's experienced professional coordinators: Tim Edwards, Fudpucker's Beachside Bar and Grill; Brooke Zannis, Destin Commons; and Brittany Byrd, Harborwalk Village.
Our next stop was the Destin History and Fishing Museum where we were given an amazing tour by Kathy Marler Blue, Associate Director. Our non-profit museum is a tourist destination with a mission to present Destin's journey from a small fishing village to a major tourist destination. We stepped away with a new appreciation of our historic, persevering Destin Harbor and city.
Here, we also heard from Jason Belcher who, in a previous Destin Forward class, helped to restore and make available the Primrose, Destin's first seine boat. This is due to multiple donors and organizations working together for funds used to build a new structure to house the Primrose, restore the Primrose and Old Post Office, and create a cohesive walk-way which makes up the historic park complex on the museum site.
Our chock-full day concluded with the Destin Fishing Rodeo weigh-ins at AJ's! I hope you didn't miss this in October! (Read about the first two Destin Forward sessions at MyDestinLife.com.)