By Rita L. Sherwood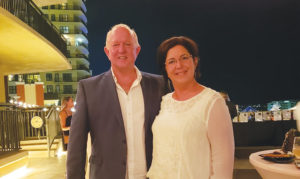 Meet Kimberly and Blake Gasaway from Niceville's own American Eagle Fence Company. Blake and his family grew up vacationing here as his mom's side of the family lived in Laurel Hill since the 1840s. Not many locals can say that!
A member of the American Fence Association, Certified Fence Contractors, and Certified Fence Professionals, Blake has more than 10 years' experience in business consulting. He and his wife pride themselves in being highly professional as well as highly trained. He states their mission is "To provide excellent customer service, sales and installation with quality products to protect people, pets and property. We don't just sell fences, we sell peace of mind and security."
Kimberly Gasaway is president and Blake is executive vice president of the company, and it's been established for three years. And what a three-year run it's been, with 200% growth every year since they have started.
They build commercial and residential fences, working with local builders such as Randy Wise, local developments like HarborWalk and the Palms in Destin, government contractors from Eglin and Hurlburt, national companies like Target, local Okaloosa county schools, residential customers from Hammock Bay to Kelly Plantation, and even to Grayton Beach.
Aluminum fences are the company's number one seller because they are rust resistant, which is important in being so close to the beach. Custom and higher end wood fences come in at second and tend to be more prominent in beautiful residential settings. Commercial heavy-duty chain link fences are the norm for military bases and private companies, as is industrial grade aluminum fencing.
Their contract last year was to build 37 fences for Okaloosa County schools. Six high school fences were completed with the addition of security fences and safety aluminum fences at the front entrances, and bus ramps and chain link fences around the back entrances. They also installed security doors and gates with panic bars.
Kimberly and Blake are members of Crosspoint church and are active volunteers in the community. They have donated and installed 20-30 gates for PAWS, and volunteer their time for the Calm house in Niceville, a home for single mothers and their children who are living in crisis.
When not working and helping the local community, the Gasaways enjoy spending their weekends boating, fishing and hunting.