Susan Authement Dunnam is the Owner of Destin Pilates and Aerial and Destin Girls Retreats. After moving to the area in 2009 and pioneering her business in a friend's home with only one reformer and one client, Susan quickly expanded as her client base grew.
A true entrepreneur, Susan has been a leader in bringing new fitness trends including Bungee Jump and Aerial Fitness to the area. She is also a connective tissue specialist bringing the incredibly effective Rossiter Stretching System to the Gulf Coast.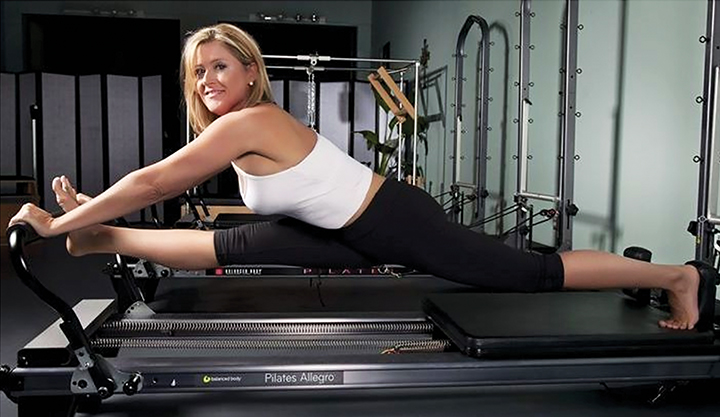 A dedicated professional passionate about inspiring, motivating and mentoring people to achieve and exceed their fitness goals, Susan is fully committed to spreading the message of "The Pilates Method" as a lifestyle, thereby achieving dramatic results and major transformation in her clients' bodies. She says that if you are able to move, you are able to do Pilates. "Even though there are still some people who have never heard of Pilates," she says, "it has been around a very long time." Joseph Pilates pioneered his namesake discipline on the mat and on various equipment which he invented to strengthen the center, lengthen the spine, increase body awareness, build muscle tone and gain flexibility. As a fitness pioneer in the 1930's, he engineered exciting new moves and combined them with elements of yoga, dance, gymnastics, and boxing just to name a few.
How Pilates Works
Susan explains that the Pilates technique develops strong abdominal and postural muscles to support the skeletal system and act as the "powerhouse" of the body. This full body workout makes sure no muscles are over-trained or under-trained. Pilates is designed to treat the body as a whole working from the inside (core) out bringing balance back to the body. "The footwork alone is ideal for strengthening and stretching hips, knees, ankles and feet," says Susan.
"This conditioning system improves the quality of everyday life, improves posture and sports performances and helps prevent injuries," she says, "and was once the secret fitness weapon of professional dancers, athletes and movie star. Most people who've incorporated the Pilates workout, even for a short time, say they feel stronger and more energized, centered and physically confident than ever before. They also like having the flat tummies, tight buns, and long lean thighs of a dancer."
From a Destin Pilates Center devotee Melinda: "My Pilates journey began about seven years ago. I had major surgery and afterwards I started having severe back pain. I could only walk or stand for about 30-45 minutes at a time. Then I would have to lie down and ice my back. I tried medication, acupuncture, massage, and chiropractic treatments. This went on for a couple of years until one day I heard some people discussing Pilates. I googled and found the Destin Pilates Center. I started private lessons to familiarize myself with the equipment and attended classes three times per week. Within several months I was able to participate in intermediate classes. My core strengthened and I realized I had no need for former appointments. I was flexible, had a strong core, my balance was much improved and Pilates was the difference maker. I recommend Pilates to everyone, but if you suffer from back pain, you are doing yourself a disservice not to try it. Your lifestyle will improve dramatically. I am forever grateful that I have found a place that makes me and my body healthy and happy!"
Susan knows the power of Pilates; she was once a client due to back injury from a snowboarding accident and other neck injuries. "I didn't realize it at the time but my 'bad back' was my silver lining. As I approach age 55, I have never felt better and stronger; much is due to my Pilates lifestyle."
In her personal life, Susan actively serves on the Gatekeepers Ministry and Christian International Ministry Teams and as a member of New Life Church with a heart to spread the Gospel.
To learn more about becoming stronger and more flexible, visit the Destin Pilates Center at destinpilates.com, email susanpilates@yahoo.com or call 850-460-2828.