By Rita L. Sherwood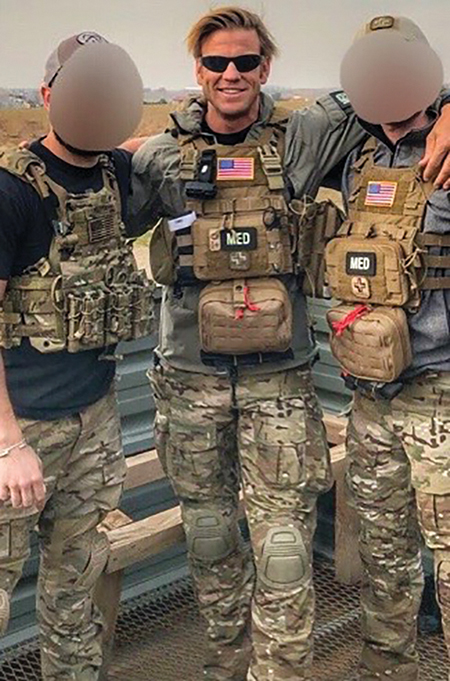 We're honored to introduce Byron Beplay, a local who grew up in Destin and Pensacola, joined the military in 1990 and served our country as a Special Ops Army Ranger. While serving, he participated in the Iraqi and Afghanistan invasions, risking his life to protect ours, as do so many others.
In 2009, he returned home as an instructor and taught a pre scuba dive course for the Army's Special Ops Special Forces Combat Dive School on Eglin Air Force Base. Since then, Byron has worked as a contractor, an underwater welder, and has worked in the medical field's emergency services.
So, what's a formal Special Ops Army Ranger with 13 years of active duty experience to do when the top-secret missions on his movie reel of life ends?
Byron spends his days volunteering for free and delivering medicine, medical care and aid to some of the world's most dangerous places. Currently the director of forward deployed operations for Global Surgical Medical Support Group (GSMSG), Byron takes former military Special Ops Veterans, (1000 members from all branches of the military) and coordinates going into war torn countries like Iraq, to teach tactical combat casualty care. He also leads military teams of nurses, doctors and surgeons that render medical aid and who all volunteer their time in service of others.
Byron says, "In a world that is very inhumane where I've witnessed so much destruction, I want to bring a little humanity." For this Army Ranger who deployed 15 different times, he feels it's an honor to serve others and in turn honor those who made the ultimate sacrifice. In fact, he recently returned from Iraq where he was helping the Kurds.
And how did this all start?
Fast forward to last year when Hurricane Michael hit Panama City and Mexico Beach, Byron sprung into action. He started out on foot with merely a rucksack and began rescuing people from the rubble. The next thing he knew, he was coordinating rescue efforts by helicopter, and soon the total monetary aid he implemented reached 3.5 million dollars.
This admiral feat did not go unnoticed as the founder and president of GSMSG, Aaron Epstein, contacted Byron to offer him a director position with his 501 (c) (3) charitable organization, and the rest is history.
It's important to note that GSMSG goes into conflict zones and austere environments where high quality skills sets are needed most, and is strictly a humanitarian and charitable organization. The volunteers all pledge their time for free and even pay for their own flights to the different countries.
Monetary donations to fund much needed night vision items as well as local donations such as SUVs are currently needed. To donate, please check out the website, GSMSG.org, Facebook and Global_Surgical_Medical_Support_Group on Instagram.
Thank you Byron for all that you do and for being our local hero in Destin. We're honored for your service.