A Veteran and a Passionate Fisherman
By Cali Hvalac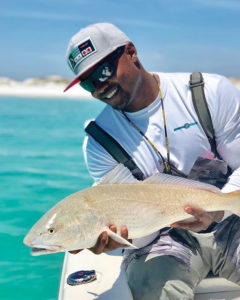 For Lionel James, fishing has always been a way life. Growing up in Anchorage, Alaska, fishing was an activity he shared with his Dad, a way to spend quality time together. If they weren't fishing together, he could often be found down at the local rivers and streams fishing after school and on weekends. "My Dad used to wake up on Saturday mornings and find me in the living room watching fishing TV shows first thing," Lionel said. "I loved it."
After high school, he joined the Air Force and served nine years, being stationed back in Florida at Tyndall Air Force base. He worked on base as a civilian a few more years before leaving to pursue his dream of being the captain of his own fishing charter, and Lion's Tale Adventures was born. "I would always tell my co-workers, my dream was to be on the water full time," he said.
Throughout his time in the Air Force, he never lost his passion for fishing. "On my days off, I would fish any chance I could," Captain Lionel said. "I had a battery powered plastic boat that fit in the back of my red 1987 Scottsdale pick-up truck. I wanted to learn the waters, on my own; what fish were biting where, and how I could catch them."
If not on a boat, he was constantly fishing from shore, piers, or bridges — anywhere he could.
His friends would see his success in person and on social media and ask if they could fish with him. Friends turned into clients, and his passion turned into a career. Lion's Tale Adventures has been operational for three full seasons and is one of the top-rated fishing charters in the Destin area. And it's easy to see why: Captain Lionel's personality and love of fishing make for a great time on the water, no matter how the fish bite.
His passion and drive caught the attention of some major players, and he has made appearances on long-standing fishing TV shows such as Addictive Fishing with Blair Wiggins. Another element of his business is that he truly believes in giving back to the community. He partners with the ARC of the Emerald Coast to take residents fishing each month, and often times that is their first and only experience on a boat. And this holiday season, he is donating the proceeds from his shirt sales to give back to local families in need.
Locals – now is the perfect time of year to book a fishing charter with this Air Force Veteran. Lion's Tale Adventures is a state water fishing charter, operating out of the Destin/Fort Walton Beach area. Fishing charters operate year-round and Captain Lionel can be reached at (850) 585-4747 or online at www.lionstaleadventures.com.