Many of you attend Mattie Kelly Arts Foundation (MKAF) events or read the name in the news. But, you might not realize the entire scope of community events and outreach initiated by the organization and the benefits.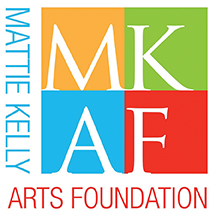 Mattie Kelly Arts Foundation's Community Outreach is an inclusive arts education program that provides creative outlets to people of diverse abilities and backgrounds. It serves K-12 students, children/adults with special needs, at-risk youth, and veterans and active duty warriors in a variety of arts programs. Since 1995, Mattie Kelly Arts Foundation has inspired more than 325,000 people and over 70 schools and agencies throughout the Okaloosa and Walton county area and offers an array of programs including Arts for All Abilities, Arts Empower, and Warrior Arts, all free to the public through grants and private and corporate gifts. For signature events, a portion of event profits from Concerts in the Village and Festival of the Arts help to fund the Foundation's community outreach initiatives and serve the unique needs of those populations who lack access to the arts and benefit from cultural experiences.
Arts for All Abilities is a program committed to helping people with disabilities learn a variety of art programs. Led by nationally recognized educators, facilitators, and artists, known for their groundbreaking work, participants are given the opportunity to learn painting, drawing, music, magic, and more.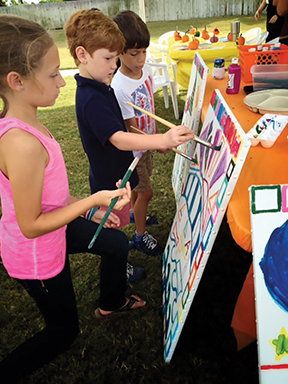 Arts Empower, led by accomplished artists, serves K-12 students, at-risk youth, and people with special needs. This program specifically emphasizes Arts-Integration, an educational teaching method that integrates fine and performing arts as pathways to learning key subject areas. Research shows that at-risk students exposed to the arts have better academic results and workplace opportunities. Students can learn theater, music, poetry, and more.
Warrior Arts seeks to offer therapeutic art classes for veterans/active duty military in order to heal both visible and invisible injuries. Warrior Arts' signature program is the Zentangle, an open-ended drawing activity that increases focus and creativity, while alleviating stress and anxiety.
A couple of recent events have contributed to MKAF outreach efforts:
Recently, MKAF put on a production of FLIGHT! for K-8 students. Made possible by The Windgate Charitable Trust, FLIGHT! combined creative staging, original music, and audience participation into a theatrical production that explored the stories of flight throughout American history. K-8 students were encouraged to think about the future of flight and their possible participation in it. MKAF Outreach has put on this production at 20 schools and reached more than 4,000 students grades K-8 in Okaloosa and Walton counties.
Having been established two years, the Mattie Kelly Arts Foundation's Warrior Arts program continues a successful component for area military units and veteran service organizations to provide hands-on arts classes to complement additional therapies.
Because of the program's success, MKAF has a goal to raise more than $20,000 to expand its already vast reach and to continue to offer the Warrior Arts at no cost and benefits, in particular, those who have sustained a traumatic brain injury (TBI) and/or suffer from post-traumatic stress disorder (PTSD). Recently, MKAF had the idea to create a "Wall of Money," a wall decorated with envelopes labeled with monetary amounts available at their hosted events to encourage donations toward the foundation's $20,000 goal.
For more information on MKAF outreach initiatives and events, visit MattieKellyArtsFoundation.org.