One of the advantages of living in Destin is when fall rolls around, we locals enjoy much of what the tourists experience during the summer. And one of our favorite activities and relaxation is experiencing the amazing local, musical talent. Our small, but mighty musical arena is home to a plethora and variety, afternoon or evening—rock, reggae blues, country and practically every genre of popular music all year long. Bring your entire family and enjoy some much needed and desired soul-soothing music with breathtaking scenery overlooking the Gulf or the Bay, local coastal style.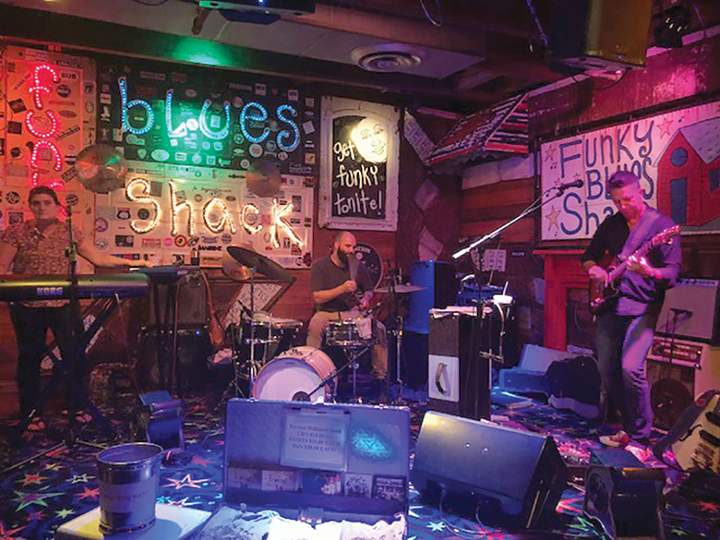 Forrest Williams at Graffiti's and the Funky Blues Shack
Funky Blues Shack is host to some of the locals' favorite music artists and bands year-round. On the menu is seafood, pasta and pizza with a full bar and plenty of dance space after your meal. The casual atmosphere is perfect for families, groups or couples. Bands including I'magene, Post Pluto, Donny Sundal & Boukou Groove and the area's own Forrest Williams Band play here regularly. Forrest Williams Band is an award-winning favorite among locals and visitors alike with its southern rock, country and blues and incorporates acoustic guitar and the harmonica. Forrest Williams plays all around town, but frequents Funky's. At any given time, you'll hear the band crank out older favorites. Now as one of Destin's own, Forrest Williams grew up in the hills of Arkansas, beginning guitar at age 14. He listened to Rock, Blues, Country, and Folk music from the 60's up to present day, which has influenced his songwriting. Forrest Williams is currently working on his third studio album, which will take him back to his roots of good ole Country music. 34902 Emerald Coast Pkwy.
Boukou Groove at Boshamps
With a delightful Destin Harbor water view out back and a multi-level deck, this place is always a favorite for the amazing oysters as well as all live music. Boshamps is also a favorite hot spot for Boukou Groove, a lively band with a colorful New Orleans, funk, soul, jazz sound. Founders, guitarist Derwin "Big D" Perkins and singer, keyboardist, Moog Bass player Donnie Sundal, delight listeners with New Orleans Funk and Soulful R&B interconnected with a jam band twist. The releases of "A lil' Boukou in Your Cup" and "Let The Groove Ride" placed one of our local favorite bands on the map to play at venues and festivals throughout the globe. Another local favorite, the band I'magene (formerly Continuum) performs live many sunny Sunday afternoons perched on the outdoor deck. With I'magene's violinist and amazing vocalist, along with the unique view of boats docked and moving, you will be taken to another level with your senses. 414 Harbor Blvd.
Heritage Band at Tailfins
With a super-amazing view of the Harbor and live tunes, Tailfins delivers three levels overlooking the Destin Boardwalk and water. It's a casual atmosphere, bar, live music venue with scrumptious local fare and live music on the top deck with full bar. It's a favorite venue for a local favorite Heritage Band which has a surf-style, Hip-Hop, Reggae style. The Destin-based band is a big sound and positive and now travels throughout the United States with its own albums and popular original music. They say they're "simply a group of guys who just want to play music," delivering a message of good vibes, positivity and love. But even though they're on the road now a good bit, they always find time for their home-base in Destin to stop and play music they believe truly makes a difference in the quality of life for others." You can catch them performing on the Destin Harbor Boardwalk, also the title of one of their albums, "Heritage Live on the Boardwalk." Other local and from all-over bands performing at Tailfins include Get Sideways, Velcro Pygmies, Jump School and Just Cauz to name a few.
Hog's Breath
If you've been in Destin for any period of time, you most likely know about Hog's Breath Saloon. Who can forget the smell of melt-in-your-mouth barbecue, the sound of ear-pleasing tunes, and the sight of the welcoming patio bar? Hog's Breath Saloon gives music lovers the option of two stages, one playing chill acoustic strums, and at night time inside full-band rockin' melodies; you'll also hear blues, jazz and island music. Hog's Breath Saloon is a local hangout for sure, even for the bikers, and has been around for many years. Super laid-back, you can play pool while you listen, hang out at the bar, or enjoy steaks and seafood, including a raw bar.
Lulu's Destin
Located at the foot of the Mid-Bay Bridge, LuLu's Destin is a great spot to enjoy live music most nights. And why not? Lulu's own brother, Jimmy Buffett, is one of the most popular coastal singer/songwriters around. We are fans of Jimmy's little sister's Caribbean-style fare as well as the tunes, which mostly have a good island vibe. Maybe that's why you can hear Boukou Groove a lot on summer Sunday afternoons at Lulu's, whether you arrive by car or come by boat! Sunsets here are amazing over the Choctawhatchee Bay and combine perfectly with the character and fun of Boukou Groove! 4607 Legendary Marina Drive
Harbor Docks
Destin locals LOVE the sushi at Harbor Docks on the Destin Harbor, which happens to be one of the best venues for live music also. Originally one of the only restaurants in town, Harbor Docks has been in business almost 40 years! A strong local following has been partially responsible, but there is strong motivation to go back time and time again because of the Gulf-to-table seafood and sides made from scratch, continued family-friendly and fun entertainment, and the owners' involvement in the community. There is a main stage outside which offers a mini arena feel. Homegrown local musician and owner of Driftwood Guitars, Chris Alvarado, is a favorite here. 538 Harbor Blvd.
AJ's Seafood & Oyster Bar
A long-time local Destin hub, AJ's Seafood & Oyster Bar sports a live band or DJ almost every night of the week during the spring and summer. And there is plenty of outdoor seating right in front of the "gi-nourmous" Jumbo-Tron and stage. Club Bimini, AJ's venue for live music and night-time drinks, rocks it later in the evening. Club Bimini Stage is a popular local venue for top 40 and rock bands. Oh, and bring your dancing shoes as Club Bimini becomes one of the Destin Harbor's hottest night clubs. A popular local band, Black Eyed Blonde, can usually be found playing at AJ's. 116 Harbor Blvd.
Pompano Joe's
Pompano Joe's is Scenic 98's answer to tropical, fun, beach vibes. During the summer, visitors get to experience what the locals love the rest of the year: Chuck Lawson. Chuck is a master on steel drums which accompanies his voice beautifully and thoughtfully. Chuck can be found most every Wednesday night at Pompano Joe's and delights audiences of all ages.
Bric-a-Brac
Bric-a-Brac is designed for live music—from the time you enter the restaurant, the sizzling sounds and the exciting smells overtake you. There are "Wow" Latin nights on Fridays and Saturdays, Hip Hop Night on Saturdays, and European Night on Wednesdays. Coupled with the variety of bands in the main room, this place is a winner most anytime. Locals say the shrimp scampi, Bric a Brac chicken and crab cakes are amazing, too. Shoreline Village Mall.
Club LA
Club LA is Destin's answer to a live music venue hosting a variety of musical bands. But it's favorite is of the rock 'n roll variety. Popular local Ron Adams can be seen at Club LA a lot, impersonating the King of Rock 'n Roll, Elvis Presley. You will probably want to check Club LA's event schedule before your arrival to Destin, as tickets sell out quickly for many of the concerts featuring popular touring acts such as Head Games: a Foreigner Tribute and Departure: a Journey Tribute.
Courtesy Condo-World.com