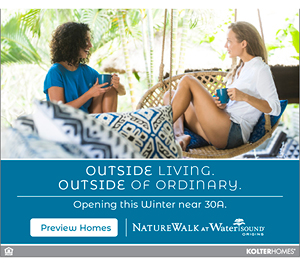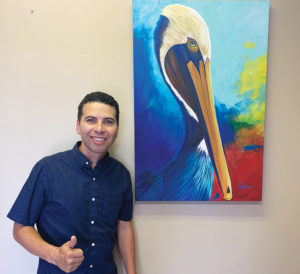 Mattie Kelly Arts Foundation (MKAF) names popular Destin artist, Kelly Pierre, the 2019 Festival of the Arts poster contest winner. Born and raised in Southern Louisiana, Kelly Pierre's passion for arts sparked at a young age. As a child, Pierre spent a lot of his time sketching marine life from the deck of his family's shrimping boat. He uses multiple mediums, oils, acrylics, clay, wood, and metal because Pierre believes that working with just one media is restrictive to his artistic process and prefers to allow each idea to manifest on its own. Pierre's studio is located on the Harborwalk Village in Destin where he finds inspiration in the wildlife and beauty of the local Gulf.
As the annual poster art contest winner, Pierre receives a cash prize of $500. The winning poster becomes the signature artwork to promote the 24th annual festival poster, postcards, the festival guide, t-shirts, and souvenirs, on the MKAF website, social media pages and more. Festival attendees are invited to view Pierre's winning art at this year's Festival of the Arts, where the artwork will be available for purchase. In addition, the art is featured on this year's official poster, festival t-shirt, and bundled note cards.
The MKAF Festival of the Arts is one of the most anticipated cultural events of the year. The 24th annual event is set for October 26-27, 2019 at the Mattie Kelly Cultural Arts Village in Destin.
To make a tax-deductible donation or provide corporate sponsorships or learn more about the Festival of the Arts, visit mattiekellyartsfoundation.org or call (850) 650-2226. The deadline for sponsorship opportunities is September 20, 2019.