By Jodell Haverfield, Luxury Travel Consultant ACC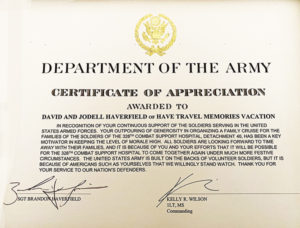 Just before our youngest son left for Iraq, he asked me to plan a Freedom Cruise for him, his fellow soldiers and their families so they would have something to look forward to when they returned home. This cruise made such an impact on the soldiers that our Travel Agency received a Certificate of Appreciation from the Department of the Army for being a key motivator in keeping the level of morale high.
Our children grew up enthusiastically celebrating our United States of America as we hung the flag on our home, attended parades and watched their father put on his uniform and play Taps, To the Colors or The Star Spangled Banner for patriotic ceremonies. In later years as our sons grew up and carried on the tradition of serving their country, we proudly placed the blue star in our window each time one of them was called to serve.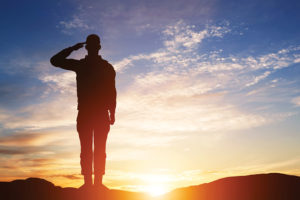 Our hearts are full each time we pledge allegiance to the flag and reflect upon our own family ancestors who fought from the Revolutionary War through both sides of the Civil War and nearly every war in the history of this country. But this 2020 Memorial Day marked a very special celebration for my husband and I as our oldest grandson, Colin, became a Marine. Because of COVID-19 and travel restrictions, Colin's parents were unable to attend his graduation. Even though parents and family were excluded, we still celebrated in his honor. We made posters and took pictures to record this important monument in his life. And yes, we will dedicate a "Friends and Family" patriotic themed cruise in his honor next year.
Last year one of my colleagues planned a 7-day cruise for a soldier who returned from duty severely injured and left with lifetime disabilities. The cruise line went above and beyond to accommodate the specific needs of this warrior and his family. His mother wrote a letter expressing her eternal gratitude for being able to witness the joy on her son's face as he was able to enjoy this cruise, something she never thought was possible.
As a mother of sons who safely returned from hazard duty, I can only imagine how she felt. It is my hope we will remember our Vets from all the wars and conflicts both past and present, fallen and returned. We must be patriotic as a country to keep the morale high!