Destin Harbor Pump Ready for Operation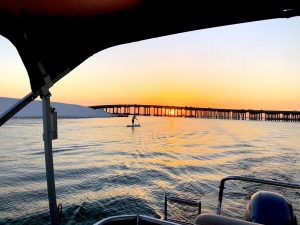 Did you know that Destin's Harbor Pump System is capable of moving almost 50,000 gallons per minute? So for perspective, it would take 17 days only to completely replace the water in the Harbor if it ran for 12 hours a day.
The Harbor in Destin, home of Florida's largest commercial fishing fleet as well as hundreds of other types of watercraft, is a functionally closed, 240-acre waterbody with water-quality issues that include nitrogen and phosphorous loading. Nutrients like these, commonly found in fertilizers along with warmer water temperatures, can lead to algal blooms, fish kills, cloudy water and odor complaints if they are allowed to accumulate over time. To combat the effects of urbanization and the water quality issues it can create, the pump system, in operation since 1992, brings low-nutrient water into the Harbor to flush out pollutants and raise the dissolved oxygen levels for fish and other aquatic life.
The system mainly runs continually during the warmer season from April until about November, when more storms and greater storm water runoff problems challenge the area. Heavier boating activity and sun-blocking algae and bacteria are also contributing factors that can harm fish, plants and other types of marine life. The pump system works to allow the needed fresh sea water to flow in to help sustain the Harbor's health. Regular flow of Gulf water into the harbor via the pump system contribute to the Harbor water's clarity, oxygen level and salinity.
Members of Public Services recently rebuilt the facility's 200 HP motor, painted and reinstalled it. It has been tested to ensure our Harbor will remain beautiful as ever during the 2019 season. The Harbor Pump System consists of an 84-inch diameter pipe (1600 feet long) that extends into the Gulf of Mexico connecting an intake box to a 200–HP motor and pump assembly located at the city's facility on Gulf Shore Drive. It will operate in the evenings from Spring until sometime in the Fall. After Fall, when the pump isn't running, Gulf water still flows through because the gates are always open—but the water simply flows through much slower. The pipe that runs from the pump station juts out into the Gulf from Holiday Isle, though most people never see the section that operates under water.