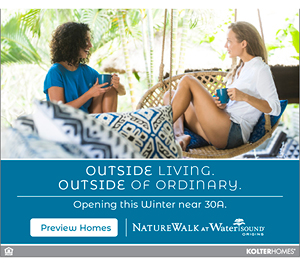 Leveraging Collaboration of Students, Industry and Military
The new HSU Innovation Institute, a facility centered in the Fort Walton Beach Commerce and Technology Park, has opened to inspire innovation among both the youth and professional community.
HSU Educational Foundation founder and local tech entrepreneur Dr. Paul Hsu is acting on his 2019 commitment to make a visionary concept a reality in the development of a modern, Silicon Valley-esque setting with the $1 million renovation of a donated building that previously hosted the early growth of several of his first businesses. "Innovation Accelerators," or partners, include Beast Code, City of Fort Walton Beach, MagAerospace Engineering, Patriot Technologies, Ray Foundation, and Step One Automotive Group. Each of these local businesses have committed to assist the HSU Innovation Institute through annual lab sponsorship, equipment, funds, resources and instructional expertise.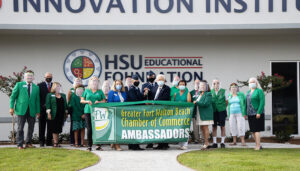 The HSU Innovation Institute, the only one of its kind in the area, spans a 28,000 square foot industrial office and warehouse facility that serves as a public-private partnership space. It will host STEM training, research and development in the 15 educational labs, collaborative maker spaces, tool labs, flight operations areas, Supporting Science Technology Engineering and Mathematics (STEM) based classes, workshops and will also feature challenge events and expos. Each area will feature in-demand career skills training and will represent every sponsors' diverse capabilities and future growth.
The open house revealed sleek glass classrooms, open ceilings that exposed colored network cabling for computer science coding software and IT/cyber related studies, and flexible spaces designed to facilitate exploration of hands-on STEM skills training. These areas will fully support the ability to move from idea creation to software development testing, as well as prototyping and flight applications. Using emerging technologies, the space will offer opportunities to fly a drone or test other forms of robotic artificial intelligence in the SUAS (small unmanned aircraft system) Training, Demonstration, and Competition Flying Lab. This unique, specially-equipped indoor lab is used for applying aeronautical concepts in a safe, well equipped environment. A particular draw, the central FieldWerx Makerspace area will support the ability to engineer and prototype projects using tools and the latest equipment, such as CNC machining, robotics, construction, 3-D Printing, welding and automotive technologies.
In working closely with the Air Force, specifically AFSOC 1SOW at Hurlburt Field and AFRL Munitions Directorate at Eglin Air Force Base, the HSU Foundation wants to leverage the development of the FieldWerx makerspace in a manner that will bring together industry and military in a more flexible and creative space, while also inspiring the next generation to explore the job skills that will be so important in the coming years. This partnership will help empower war fighters through training and collaboration to solve challenges, as well as encouraging development of new competitive capabilities and technologies.
To learn more about the HSU Educational Foundation and its programs, visit https://hsu-foundation.org.