"I crawled in as a caterpillar and flew out a butterfly."
By Matthew Vanderford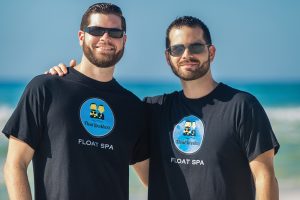 Trey and Chris Hearn are brothers – brothers who decided to start a business to make money. But that money project has turned into something very special in Destin. Both Air Force veterans, the brothers soon discovered there were many other benefits.
One visit to Float Brothers Float Spa (next to Evercrisp) and you'll see exactly what I mean. Scrawled across a hall wall are countless numbers of testimonies singing the praises of this amazing place, leaving traces of hope and help for all of us going through this journey of life together.
Float Therapy has been around since the 1950's, but stayed relatively away from mainstream use due to lack of knowledge of the therapy and the benefits it provided outside of modern medicine. But in recent year, "floating" (as it's called) has become a more accepted practice in the treatment of anxiety, depression, PTSD, and overall body and mind well-being. And now, we can "float" right here in Destin!
When I went the first time, I didn't know what I was getting into, but the overall experience was very peaceful. I was greeted by friendly and warm staff, shown a brief video of what to expect, then escorted to a private float room dubbed "The Space Room." Inside was a chamber that looked like something from out of the sitcom Mork and Mindy—an egg-shaped apparatus filled with about 1½ feet of water and 1000 pounds of salt creating a womb-like experience for relaxation. After climbing inside, I began to float with music and lights on. Then after 15 minutes, turned the music and lights off. After about 30 minutes of complete silence, tears began rolling down my face while I was being cocooned in a warm bath of saltwater. I still don't know why I cried. All I can say is that something profound happened, because when I emerged, I came out a different person – almost like being reborn. I had never experienced a place where I had no outside stimuli to distract me.
During a float, the tank is filled with Epsom salt and heated to skin temperature, making it easy to remain buoyant. Free of light, sound and other distractions, it provides physical, mental and emotional rejuvenation. Once I enter the tank, I'm completely cut off from the rest of the world, prompting my mind and body to enter into a deeply relaxed state.
I don't really think these brothers were aware of what they were getting into when they started this venture; how this business could change the course of life for so many people. All I know is I crawled in as a caterpillar and flew out a butterfly. When I left the spa, I wrote a little note on the wall; a note for me and for the next person coming down the line. I have been back since, and every time is a different experience.
Each experience, in its uniqueness, is helping me navigate this thing we call life. Brothers Trey and Chris are thankful for the Destin community support and look forward to meeting more new friends. Because they've helped me and others so much, to me, these brothers are real hometown heroes.