By Chris J. Ogle, Destin native and lifelong ocean lover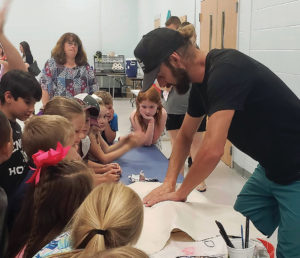 If you happen upon local artist Harley Van Hyning, you will likely feel his artistic vibes immediately. His always smiling persona exudes a love for the ocean—especially surfing and fishing. Born and raised in the local area, Harley has found his passion at the intersection of his love for art and his love for the ocean. His medium is canvas, environmentally friendly paints and freshly caught game fish. The art form is a 200-year-old Japanese tradition called Gyotaku. Van Hyning first learned of the art form in school studying art history. But it wasn't until later in life that he began experimenting with the actual application of paints on the fish to then be imprinted on canvas. He soon became obsessed and began to paint every fish that he could get his hands on. Demand for his work increased quickly. So, he ramped up production and began selling his prints. His passion has now become his life and what he calls "a dream come true he never knew."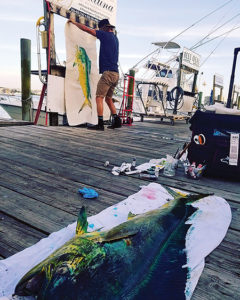 With Destin's rich fishing history and traditions, Van Hyning's work has become a natural fit. You can often find him down on the docks in a frantic attempt to preserve the image of someone's lucky catch. His clients revel in the experience of seeing their fish's likeness preserved in art form. But beyond the business side, his true sense of purpose comes from educating the youth and general public about the importance of protecting our oceans. As our Hometown Hero this month, Harley has done demonstrations at area schools to bring awareness to this important issue. In addition to the educational events, he is involved with local tournaments that bring awareness to hot button issues like that of the invasive lionfish species and the damage they do to our local fish populations. His hope is to put the spotlight on protecting our oceans as well as to inspire the many young, creative minds out there to pursue their dreams, whether that might be in art or other pursuits. Says Harley, "I just feel very blessed to be doing what I love and if I can give back to causes I love, then that is amazing!" Van Hyning has supported our local veterans by raising money for SOF Missions (Shield of Faith) as well as supporting charities like Children in Crisis and the Taylor Haugen foundation. He dreams of one day starting a foundation of his own to provide scholarships to young aspiring artists.
Van Hyning also dreams of making a difference in the lives of everyone he touches with is art. His greatest hope is for increased awareness about protecting one of the worlds' most fragile and important resources—our oceans. "I'd like to say I'm spreading love with a brush!" says Harley. Anyone viewing his work would have to agree that his mission is getting accomplished one fish at a time.
You can find Harley on Instagram @gnarlyharley.