More than 60 community leaders, donors, volunteers and staff members gathered in Santa Rosa Beach on Feb. 5 to celebrate the official groundbreaking at the future home of Habitat for Humanity of Walton County ReStore. The new location, set to open in late 2020, is located at 2260 U.S. Hwy. 98 West on the northside of the highway between Publix and Veteran's Parkway. Following the groundbreaking, guests were invited to a celebratory brunch at Grayton Beer Brewpub where Habitat for Humanity launched a $3.1 million capital campaign to fund the new Restore location.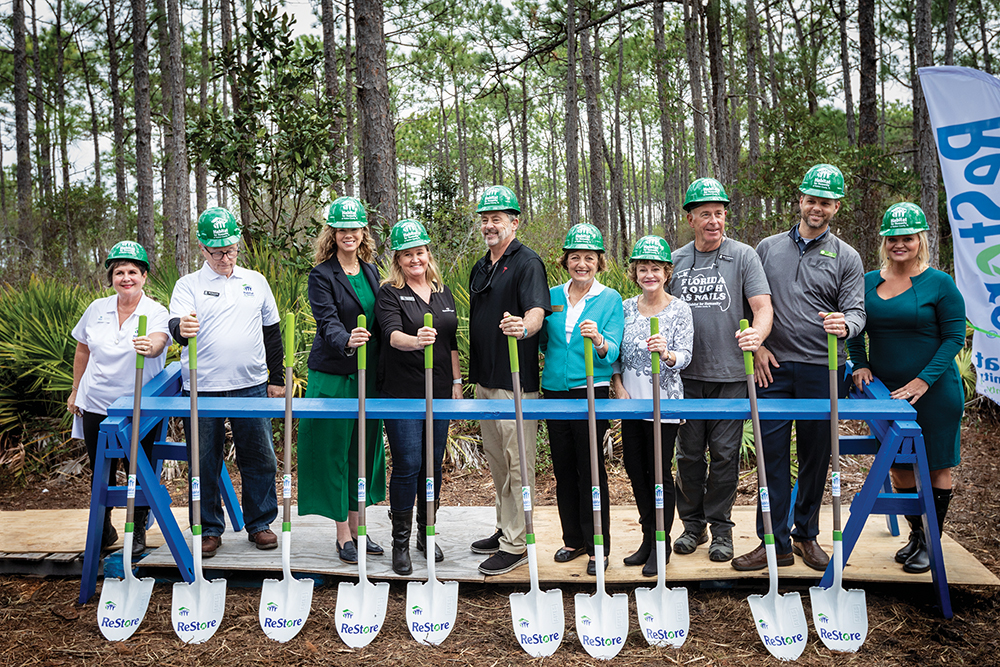 "I am excited for what this new ReStore will not only mean for our organization, but our area," said Teresa Imdieke, executive director of Habitat for Humanity of Walton County. "We have long outgrown our current facility and look forward to serving more families and our community in this new facility."
Habitat ReStores are independently owned reuse stores operated by local Habitat for Humanity organizations that accept donations and sell home improvement items to the public at a fraction of the retail price. The donation centers sell new and gently used furniture, appliances, home goods, building materials and more. The profits from the sales go directly to the funding of the local Habitat for Humanity. Currently, the Walton County ReStore is located in a leased building of approximately 2,500 sq. ft. and simply does not provide adequate space to house the current level of operation and provides no room for growth. Often, ReStore employees are forced to turn away donations due to lack of space to store them.
The new location would not have been possible without the support of Impact 100, which awarded Habitat for Humanity of Walton County a $123,000 grant in 2016, which was used to make the down payment for the land. The new ReStore building will be 18,500 sq. ft., providing much-needed room for growth. The new facility will consolidate services under one roof, including an air-conditioned showroom, donation center, warehouse and administrative offices. Additionally, customers will appreciate more parking space and loading docks. Donations that currently sit out in the elements will be housed in the 12,000 sq. ft. warehouse, therefore reducing loss, and providing the opportunity to expand their inventory and greatly increase Habitat for Humanity's ability to resell, reuse and recycle donations.