One of the best reasons to be a local is the many festivals and events you can attend all year long, but especially in the fall. Our area is blessed with kind-hearted but determined people and volunteers who work tirelessly to coordinate events for a cause, many of them raising much-needed funds for those in need.
"Gather in the Garden" to support BeGenerous and the vision of The Yellow House Project on Oct. 6 from 4-7 p.m. at the Point Washing Preserve at The Pavilion Event Venue. Funds raised will benefit the first Yellow House, a short-term residential home of refuge, hope, healing and true transformation for women in desperate need of freedom from trafficking. This beautiful Garden Tea Party will include food and tasty desserts, celebrations of what God has accomplished with miraculous testimonies, dance performances from survivors of addiction and trafficking, music, amazing chef-prepared food, a silent auction and a few surprises! For tickets, visit Eventbrite.com and search The Gathering in the Garden ($35 single ticket and $60 couple).
It's almost time for The Market Shops 4th Annual Bloody Mary Festival Sat., Oct. 6th from 11 a.m. to 2 p.m. at The Market Shops at Sandestin! Benefitting Habitat for Humanity, the festival will feature the finest Bloody Marys made with Cathead Vodka and served in signature cups provided by Compass Builders of Florida, LLC, not your ordinary Bloodys. There will be food, champagne, beer, a photo booth, live music, premium cigars, and you can vote for your favorite! Visit www.themarketshops.com to purchase your ticket to #EatDRinkBMary this year!
The "Rockin' on the Lawn" Music Festival will be held on Oct 13th at Mattie Kelly Culture Arts Village from 11-9:30 p.m. to benefit South Walton Academy, the first-of-its-kind non-profit inclusion school meeting the needs of children in Okaloosa and Walton counties. Featuring an impressive lineup of bands—Luke Langford Band, Atlas Lost, Catalyst and Will Thompson—tickets are only $20 for adults and $10 for children (age 2-8) and can be purchased by visiting southwaltonacademy.com/events or by calling Tina Spicer at 850.855.0201. Bring your family, chairs, blankets, coolers and yourself and enjoy the music, bounce houses, face painting and more. www.southwaltonacademy.com
Join the Young Professionals of Walton County as they welcome Good Grit Magazine's Editor-in-Chief, Laura Bento, who will discuss her favorite F word – Failure. This exclusive luncheon sponsored by Avantgarde Salon • Spa will take place on Thurs., Oct. 11 from 11:30am – 1pm at the NEW Vintij Food & Wine and is only open to 50 attendees. Cost to attend is $20 for members and $25 for non members. Those interested can be register at www.ypwaltoncounty.com.
The City of Destin will host its Annual Open House on Thurs., Oct. 25, 2018, from 11:30 a.m. to 1 p.m. at the Destin Community Center in conjunction with Florida's City Government Week. The theme this year is the Florida League of Cities' message "My City: I'm part of it, I'm proud of it." The city will also host a FREE Community Shred Day during the event. Residents and businesses can bring old documents to be shredded on site from 11 a.m. to 2 p.m. at the Community Center, 101 Stahlman Ave. A fish fry will be served buffet-style beginning at 11:45 a.m. Council, staff and city partners will be on hand to meet and talk with the public. There will also be booths, giveaways, and a scavenger hunt.
Beginning on Thurs., Oct. 25th, Destin Charity Wine Auction Foundation will be hosting The 2nd Annual Harvest Wine & Food Festival through Sat., Oct. 27. 250 world-class wines will be paired with regional Gulf Coast cuisine in the beautiful beach town of WaterColor. Tickets: bigtickets.com/events/harvestwinefoodfestival.
Save the date for Destin Crafted at The Henderson Beach Resort & Spa on Sat., Nov. 3rd, from 1-4 p.m. presented by Wine World. The afternoon event will feature over 50 premium craft beers, select small-batch bourbons, and hand-crafted foods prepared by Destin's top dining establishments. Tickets are on sale now (ventbrite.com/e/destin-crafted-tickets), with a portion of the proceeds benefiting Children in Crisis.
Fore Her, a local non-profit organization, will host The Pink Walk Nov. 4 from noon to 3 p.m. at the Destin Commons. The half-mile walk around Destin Commons and after party will feature a DJ and photo booth from BBoy Productions, sweet treats from Kilwins, activities for children, an aerobics class by U.S. Fitness and much more, including inspirational words from local news channel WJHG's Jessica Foster. Tickets are $35, adults and $20 for children ages five to 12. Signs placed along the walk course to honor those who are battling or have lost their battle with breast cancer are also available for $50. Proceeds will benefit Fore Her, which provides financial assistance to local breast cancer patients. To register, visit www.foreher.org/pinkwalk.
Enjoy a blast from the past to celebrate the 50th anniversary of the Boys and Girls Clubs of the Emerald Coast with the 5th Annual Stake & Burger Dinner on Nov. 8 from 6:30 to 9 p.m. at the Hilton Sandestin, featuring keynote speaker Hulk Hogan.
A 12-time world champion, Terry Bollea a.k.a. Hulk Hogan, is considered by many to be the greatest professional wrestler of all time. What most people don't know is that before the Hulkster became the face of the WWF, now the WWE, he spent his formative years at the Interbay Club of the Boys & Girls Clubs of Tampa Bay and was inducted into the Boys & Girls Clubs of America Alumni Hall of Fame on May 3, 2018.
The retro-themed evening will feature an incredible 50th anniversary celebration, great raffle prizes and silent auction items, a build-your-own-burger bar and, of course, inspirational words from Hulk Hogan. General admission tickets are $125 and include admission, meal and drink ticket. Visit www.emeraldcoastbgc.org.
It's almost time for the 11th Annual Emerald Coast Cattle Barons' Ball (ECCBB)! Previously held in the spring, the main event has transitioned to the holiday season and will be held on Fri., Nov. 30, 2018, within the Linkside Center at Sandestin Golf and Beach Resort. With cowboys and cowgirls donned in festive, western holiday wear, the 2018 Cattle Barons' Ball theme will be "Cowboy Christmas" in what has become the area's premier fund raising event with 500 guests.
Plan to wear your dancin' boots and get ready to rock along as the entertainment will feature local favorite, The Modern Eldorados, back by popular demand. Cowboys and girls will also enjoy live and silent auctions, complimentary drinks and fancy vittles from the area's leading restaurants and caterers.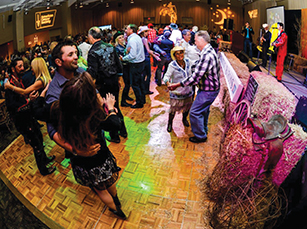 The Cattle Barons' Ball benefits the American Cancer Society by raising funds for cancer research, advocacy, education and patient services. Baron and Rancher table sponsorships are available at multiple levels, as well as individual tickets at $175. For information, contact Laura Dennis, Development Manager, American Cancer Society, by calling (850) 512-4440 or laura.dennis@cancer.org.