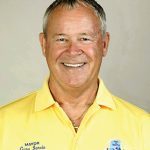 As I reflect upon 2019, I am extremely thankful for my family and for the opportunity to serve as your mayor of this great city. I truly appreciate the dedication of my fellow council members as well as our employees. Cities across the nation recognize the importance of developing a brand to help stimulate investment, promote business opportunities, build quality developments, encourage tourism, and improve quality of life for residents and future generations. This takes careful thought, consideration and a vision. So, I ask the question, "What is our brand?" Is it our beaches? Our world class fishing? Our parks? Our quality of life? Tourism? It's all the above and more.
Some say that a brand is "setting an expectation and delivering upon it."
My fellow city council members go to great lengths to listen and understand the EXPECTATIONS of our residents, businesses and visitors and what they EXPECT our great city to be. From this feedback, our city council established a long-term vision for our city. We also developed a strategic plan to ensure we deliver upon that long-term vision and brand for our city. With community input, we are managing this city with clear goals and expectations for the future. The objectives we have in place will contribute greatly to the quality of life for generations to come.
The council's vision statement is Destin is a family-oriented beach and fishing community where people want to live, work and play and where guests are welcomed to respectively enjoy our community and its resources.
City council has identified three key groups that are our priority: The first priority group is our year-round residents, followed by our Destin-based businesses and of course our visitors.
City council has a clear vision and unified approach for quality development and revitalization as well as improved mobility and connectivity throughout our city. We as a council are thinking forward in prioritizing our goals as a city. We have many services, programs and projects underway to fulfill our mission and continue to make Destin a great place to live, work, play and visit. We will continue these efforts well into 2020 and beyond.
The city hosted a strategic visioning session in Oct. 2019. Council and senior city staff members met to discuss our achievements, where we are as an organization and possible paths forward into the future. During this strategic visioning session, city council identified key objectives and projects for staff to focus on in 2020. These objectives and projects help form the city's overall strategic plan. This strategic plan is critical to help guide elected officials and staff in their day-to-day activities as well as long term planning. It also provides our residents, businesses and visitors transparency into the City of Destin's planning and operations. On Jan. 6, 2020, city council formally adopted the FY 20 Strategic Plan and it's available to view on our website at www.cityofdestin.com/strategicplan.
– Mayor Gary Jarvis