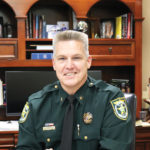 Independence Day is our country commemorating the Declaration of Independence of the United States when on July 4, 1776, Americans declared that we were no longer subject to the monarch of Britain and declared ourselves united, free and independent states.
There is much to celebrate on "Independence Day," especially in our part of the world where patriotism runs deep and so many of our neighbors are active duty or retired military veterans who've served the USA with pride and distinction. Yet keep in mind, while many of us are enjoying 4th of July holiday festivities, first responders, like deputies with the Okaloosa County Sheriff's Office, are responding to an endless stream of calls – contending with everything from disturbances and fireworks complaints to reckless vehicles and traffic crashes.
Summer, in general, is the season most associated with the use of fireworks, and it is important to use caution and to remember they can be dangerous when used improperly. To ensure our residents and visitors stay safe this season, you're encouraged to keep the following tips in mind:
Use only approved products. Many dangerous and illegal fireworks, rockets and explosive devices are readily available for purchase. By Florida law, these are unlawful for private fireworks displays and are significantly more likely to cause fires.
• Do not sign a waiver in order to purchase illegal fireworks. Signing a waiver will not clear a consumer of responsibility if caught illegally using fireworks.
• Only purchase sparklers from licensed vendors.
Control your environment. Sparklers should be used only on sand, concrete or another non-flammable surface, away from brush, trash or other objects that could catch fire.
• Never give sparklers to young children, as they can reach temperatures between 1,300 and 1,800 degrees, which is at least 200 degrees hotter than a standard butane lighter.
• Keep pets indoors and away from all sparklers.
• Light only one item at a time and never attempt to re-light.
Be prepared. Have a fire extinguisher or a hose and a bucket of water readily available.
Attend a public fireworks show. Be safe, not sorry. The best way to protect your loved ones this year is to attend one of the many public displays sponsored by communities or organizations all across our area and the state.
We all know that the holiday also can mean an increased risk of crashes and crash-related injuries or fatalities on both our roadways and waterways. Many of those crashes are alcohol-related and easily prevented. Deputies from the Okaloosa County Sheriff's Office will be patrolling to locate and arrest impaired drivers and boaters, and remove them from our streets and waters. Arrests for DUI and BUI (boating under the influence) will be made with zero tolerance.
Traffic congestion can mean impatient drivers, not just during the holiday but all summer long.
Some of the common causes of local crashes are: Speeding, following too closely, running red lights, making unsafe lane changes, careless driving, aggressive driving, and driving under the influence. Please be patient with the influx of heavy traffic! There really is nowhere to go to escape it.
We ask that drivers obey the speed limit, drive with patience and tolerance for other drivers, don't text and drive, drive defensively, wear your safety belt, and make sure children are using appropriate child restraints.
We also ask anyone who plans to drink and party to use a taxi, Uber, or designated driver to get home. Remember, "When you plan for the party, plan your safe ride home first!"
The Okaloosa County Sheriff's Office needs you to partner with our deputies to help keep our roadways and waterways safe. You can report unsafe or impaired drivers by calling the Okaloosa County Sheriff's Office at 651-7400 or 689-5705 or 9-1-1.
Enjoy your summer and your July 4th holiday week safely, and with gratitude for all the blessings we enjoy as Americans!