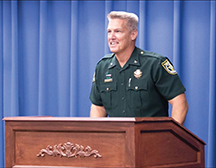 You have to love October on the Emerald Coast, especially if you're a serious angler or simply a fishing enthusiast. But many folks, like myself, are both. That's why tens of thousands of people are lured in from all over the country for the Destin Deep Sea Fishing Rodeo each October. The outstanding fishing opportunities, Gulf scenery, and typically good weather combine to make it of our county's most popular events.
Spend any time in the waters around Destin and you're sure to see one of the Okaloosa County Sheriff's Office's (OCSO) boats on the waterways. In fact, the OCSO has had a presence on local waterways for over 50 years. And as our area has become one of the nation's top boating and fishing destinations, boating safety and education is the priority of our marine unit.
2017 was one of the busiest years on record for our Marine Unit, with more than 2800 calls for service and 458 waterway security checks alone. Just in time for the start of the summer, we acquired a 27-foot safeboat, previously owned by the Coast Guard, to help with our safer waterways initiatives. This boat was acquired through a federal surplus property program and made possible for purchase with funding from the Okaloosa County Tourist Development Council. Other OCSO vessels include our 26' soft sided patrol boat used for daily operations, a 24' reliable, all-weather, Cape Horn Center Console, and a 22' Pathfinder Center Console which can be used to patrol more shallow areas.
Having the right resources to enforce state laws and municipal ordinances is as important to our Marine Unit as having the right bait, rod and reel are to fishermen. But even when you're out looking for that perfect marlin, nothing is more critical than safety. So, let's just go over a few of the fundamentals to focus on as you go in search of that perfect strike:
– Make sure you have enough life jackets and that they are in good condition.
– Stay vigilant to what's going on around you at all times.
– Pay attention to the locations of "No Wake" zones and comply at all times.
– Be aware of weather conditions and forecasts.
– Don't boat under the influence. The odds of being involved in a boating accident DOUBLE when alcohol is involved.
– Have the appropriate gear and supplies on hand in case of an emergency.
– Use common sense and common courtesy.
The Destin Fishing Rodeo is an Emerald Coast tradition celebrating all the things that make local fishing and waterways so popular and a favorite personal past time. So, if you're like me and the 30,000 other anglers heading into town and are hooked on fishing, the OCSO wants you to be hooked on safety as well.