By Ron Sandstead, Flutterby Antiques
Public art displays make a difference in how you feel about where you live. It doesn't seem to matter whether they are murals, banners, mosaics or statues. It all makes for a prettier, more interesting city. There are many in Destin who believe in this and are working to make it happen.
Part of any project like this is raising money. On January 18, 2020, local artists and sponsors will be honored with a celebration. The 24 original art pieces will be offered for sale in a silent auction. All funds raised in this event will go toward new artwork projects in 2020. La Paz Restaurant in Destin will be hosting the celebration; and the artwork will be on display for a week prior to the event, with silent bidding anytime during that week. On the evening of the 18th, there will be an opportunity to place final bids before the gavel comes down.
Baltimore native Marie Chapman moved to Shalimar with her husband about three years ago. She has always loved art and while in high school was introduced to a variety of art mediums. After a many-year hiatus, she began painting again four years ago. Now that she is retired, Marie stays busy painting, working with clay, and participating with friends in The Arts and Design Society (ADSO) in Fort Walton Beach.
For her banner art, Marie chose to paint a dreamy seahorse floating among the stars. Surrounded by sea grass, her seahorse has a soft glow and seems to be holding some eternal secret.
Like many artists, Marie says she is very connected to her art. She feels like she is sharing a piece of herself, and as Marie puts it, "that in itself is the miracle of art."
Marie's work can be seen on Facebook and is on display at the Emerald Coast Gallery and Gifts in Destin. It can also be purchased from her website: www.mynautilusart.com.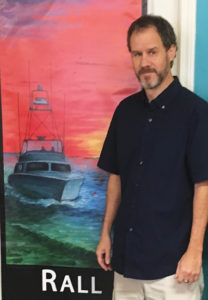 Staten Mitchell Rall, known as Mitch to his friends, wears many hats. He is an author, musician, songwriter, historian and artist.
Meeting him for the first time, Mitch was playing the drums in the praise band at Immanuel Anglican Church. The next week, he wrote a Christian song and performed it while playing a guitar. He currently plays in a fun local band Coastal Groove that plays songs from the 60s and 70s. On Sundays, he plays at either The Boathouse on the Harbor or Giovanni One89 in Fort Walton Beach.
A few months later, he mentioned he had written a Civil War novel, "True Blue Confederate," which is available for purchase on Amazon. A sequel to his first novel is in the works, as well as several other stories.
Mitch was influenced by his artistic mother and has always loved art. He began drawing at age 15 and started painting 14 years ago. He still does a lot of work with pen and ink but uses acrylics when he paints and his favorite style of art is impressionism.
For his banner art, Mitch painted a fishing boat returning to the docks after a day of fishing. The boat is finely detailed with a beautifully curved hull, fishing tower, and outriggers. It cuts through the waves with a brilliant sunset behind it. His amazing use of colors gives this painting depth and movement. Most people who live here have seen these sunsets — and they are as spectacular as Mitch's painting.
The project is gradually expanding. In addition to banners on Main Street, banners are also displayed in the parking lot at the Community Center. Also, the project is actively looking for more banner arms to display the retired banners in other locations, like the parking lots of the Destin Library and City Hall. Airport Road is also under consideration. And, original artwork has been displayed on the walls of the Destin Library from the beginning of August until the end of September.