Ready to be the talk of the tailgate? These Keto Chicken Nuggets are perfect for a quick party appetizer, tailgating recipe or a fun dinner. Folks won't know they're keto unless you tell them! Local resident (and daughter-in-law), Sarah Smith, made them for us one night for dinner and I couldn't quit eating them! Just knowing they were healthy added more appeal. They're made with chunks of chicken breasts coated with buffalo sauce, almond flour and parmesan cheese, then baked until golden. It's an easy and healthy homemade chicken recipe for young and young at heart. Serve them with your favorite dip; but they're scrumptious with no dip at all.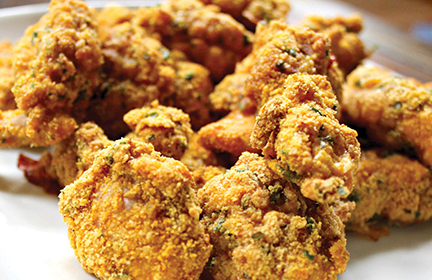 Ingredients:
1 lb. boneless, skinless chicken breast or tenders
1/2 teaspoon salt
1/4 teaspoon ground black pepper
1 cup of Franks Buffalo Sauce
1-1/4 cup almond flour
1 teaspoon garlic powder
1/2 teaspoon paprika
1/4 teaspoon onion powder
1/4 teaspoon cayenne
2 tablespoons parmesan cheese
1 tablespoon and 1/2 tablespoon of Ranch seasoning
Instructions:
Preheat oven to 375 degrees.
Cut chicken into strips or nuggets. Pat chicken dry and season with salt and pepper.
In a medium bowl, whisk almond flour, parmesan, garlic powder, onion powder, paprika, and tablespoon of Ranch seasoning and cayenne until combined.
Dip sliced chicken into the buffalo sauce, then cover in almond flour mixture. Repeat until all chicken is coated.
Place coated chicken on non-stick baking pan.
Bake for 15-20 minutes or until outside starts to brown.
If desired, in a saucepan, heat butter until melted. Whisk in 1/2 cup buffalo sauce and bring to a simmer.
Add in chicken and toss until coated.
Remove to plate, cover with remaining ranch seasoning, and serve immediately.
Enjoy!