The performance runs Thursday, Sept. 20 (opening night) through Sunday, Oct. 7 and will be staged at ECTC's performance space located at 560 Grand Boulevard (upstairs) in Grand Boulevard at Sandestin, located in Miramar Beach, Florida.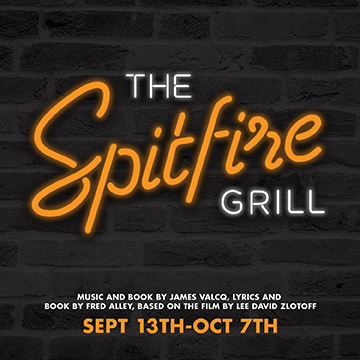 Based on the film by Lee David Zlotoff, the story of "The Spitfire Grill" centers around Percy a feisty parolee who follows her dreams, based on a page from an old travel book, to a small town in Wisconsin and finds a place for herself working at Hannah's Spitfire Grill. The diner is for sale but there are no takers for the only eatery in the depressed town, so newcomer Percy suggests to Hannah that she raffle it off. Entry fees are one hundred dollars and the best essay on why you want the grill wins. Soon, mail is arriving by the wheelbarrow full and things are definitely cookin' at the Spitfire Grill.
"There is a lot packed into this compelling story of universal truths including the powerful themes of redemption and forgiveness, along with the economic problems of small towns, the plight of Vietnam War veterans, and, to even female empowerment," said ECTC producing artistic director Nathanael Fisher.
Nathanael Fisher directs an ensemble cast that includes Larren Woodward (Percy Tallbott), Darla Briganti (Hannah Ferguson), Caitlin Artrip (Shelby Goddard), Michael McLendon (Caleb), Cameron Gray (Sherriff Joe), Destinee Steele (Effy) and Allen Walker (The Visitor).
ECTC's production of "The Spitfire Grill" includes musical direction by Mary Jeter with musical accompaniment by Chris Gardner. Costume design is by ECTC associate artistic director Anna Fisher. The production is stage managed by Bridgett Bryant with lighting and set design along with technical direction by Cory Tucker.
Music and book for "The Spitfire Grill" is by James Valcq and and lyrics and book are by Fred Alley, who first staged this gem Off Broadway in 2001. The Academy of Arts & Letters awarded "The Spitfire Grill" the Richard Rogers Production Award. The original production also received Best Musical nominations from the Outer Critics Circle and The Drama League.
Performances are Thursday through Saturday at 7:30 p.m. with 2 p.m. matinees on Sundays. There will be no performance on Saturday, Sept. 29 and an additional performance at 3 p.m. on Saturday, Oct. 6. Running time is 90 minutes. Appropriate for ages 13 and older.
Theater patrons are encouraged to come early (doors open at 6:30 p.m.) to browse artwork by local artists showcased in the ECTC Lobby Gallery curated by Lori Drew, founder of Lowkylzart. A portion of proceeds from each sale benefits ECTC and its education outreach and scholarship programs.
Tickets are $35 for adults; $32 for seniors (55 years old and up) students, and military. Purchase tickets online at emeraldcoastheatre.org/tickets or call (850) 684-0323.
ECTC VIP memberships are $250 per person and include: VIP badge of honor, one ticket to all Professional productions, TYA productions; VIP reserved seating (advanced reservations required); access to the Isidro Dunbar Modern Interior VIP lounge and complimentary wine, beer and water. For more information on memberships go to www.emeraldcoasttheatre.org/become-a-member
ECTC's Professional Theatre for Young Audiences (TYA) showcases professional actors performing productions especially selected for young audience members. "Curious George: The Golden Meatball," Oct. 19-27; "The Snowy Day and Other Stories," Feb. 15-23; "You Think It's Easy Being The Tooth Fairy?," May 16-19. The performance schedule is Fridays at 9:30 a.m., 10:45 a.m., 7 p.m., Sunday at 2 p.m. (the first weekend only). Tickets to TYA productions are $10. Children three and under are free.
New this year ECTC launches its Story Teller Series, featuring professional actors presenting compelling stories and dramatic works. The performances will be in February on Wednesdays at 7:30 p.m.
Major sponsors for this season are Grand Boulevard at Sandestin, Isidro Dunbar Modern Interiors, and Howard Hospitality.